'Proper b****-slapping': Boris Johnson battered by ministers amid claims he'll step down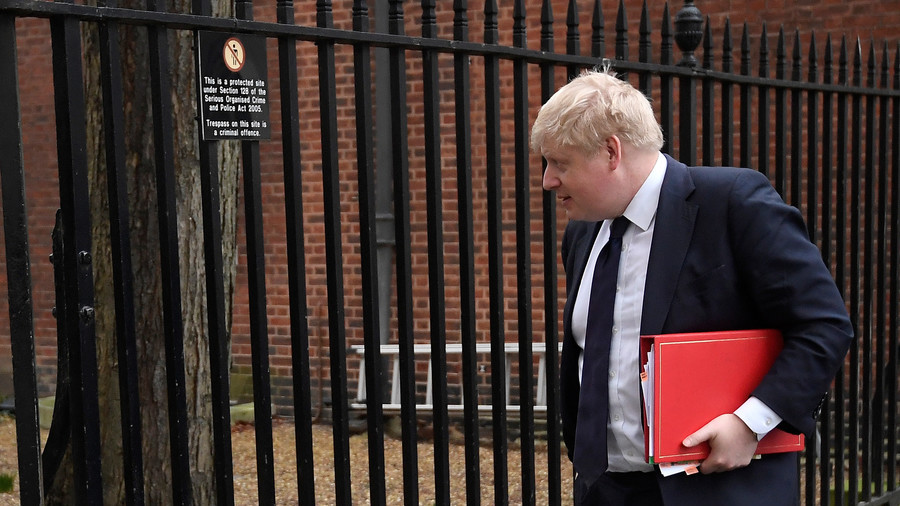 Boris Johnson is yet again causing Conservative party waves as rumors spread he will launch a leadership bid against British Prime Minister Theresa May.
For the third time, the foreign secretary is believed to be plotting to quit the cabinet, this time over a row about Brexit and the National Health Service (NHS).
Brazen Boris reportedly hopes to challenge the PM and demand a £5 billion (US$7 billion) cash injection for the health service – something once pledged on a Brexit "battle bus."
Johnson wants £100 million a week more for the health service when the country divorces the European Union.
The promise he made during the referendum has stuck with Boris, especially since it was proven to be unrealistic and those seen with the slogan-clad vehicle have since been accused of intentionally misleading.
However, Johnson's cabinet attack extraordinarily backfired.
One source revealed to the Sun that Johnson was taken down by eight ministers when he tried to tackle May.
"He got a proper b****-slapping," the source said.
Liam Fox allegedly attacked the foreign secretary for making internal rows public, while Home Secretary Amber Rudd delivered the mother of all digs when she said top Tories should be able to trust on another, adding: "I'm talking to you, foreign secretary."
Philip Hammond took a shot at Johnson for attempting to meddle in the NHS.
"Well, Mr. Johnson is the foreign secretary," the UK chancellor told reporters in Brussels. "I gave the health secretary [Jeremy Hunt] an extra £6 billion in the recent budget and we will look at departmental allocations again at the spending review when that takes place."
Insiders in the Tory Party now believe Johnson will attempt to mobilize support against the PM and will finally launch the expected leadership bid to bring about the kind of Brexit he wants. In 2017, he had his own blueprint for Britain's exit printed in the Daily Telegraph, causing a furor in the party.
Allies said it is "nonsense" he would leave soon.
Health Secretary Jeremy Hunt also distanced himself from Johnson's demand late yesterday, even mocking his audacious attempt to become involved in his colleague's portfolio. Hunt was challenged about the money – and where it could come from.
"You have to ask the foreign secretary," he replied.
You can share this story on social media: