Return of Farage? Father of UK right-wing politics set to return… to fight failing UKIP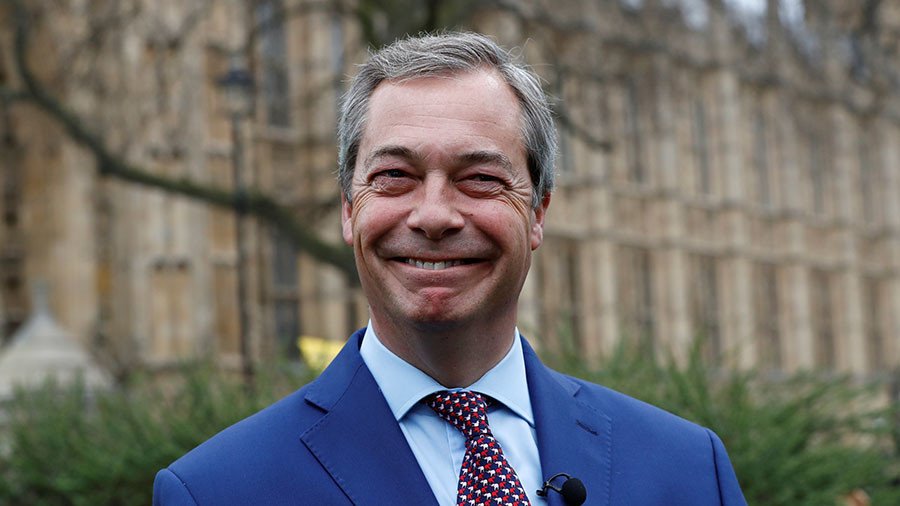 Crisis-hit UKIP could face a final, devastating blow from the man who saw the party shoot to its greatest successes, as Nigel Farage enters talks to return to the political arena.
The modern father of right-wing politics in the UK is heralded by party supporters who are now calling for him to return after a succession of problematic leaders.
Henry Bolton, the current leader, has been accused of sticking the "last nail" in the coffin for the fledgling party after his love life made national news.
Bolton, who left his wife on Christmas Eve and began dating a 25-year-old glamour model two days later, was publicly told to stand down when his new girlfriend Jo Marney's personal text messages were leaked.
The UKIP supporter racially abused Prince Harry's fiancée in the text messages and made remarks about child rape in messages "too graphic" for print.
A vote of no confidence has been called over Bolton's leadership which could see him fall from the top on Monday.
Bolton overwhelmingly lost a vote from the party's national executive committee, but indicated he would not step down from the role voluntarily.
This week, he may be forced.
Early on Monday, the party was in turmoil as deputy leader Margot Parker stood down, predicting the fall of the former Farage empire.
However, the ex-leader, who campaigned for Brexit for almost two decades and stood down after the vote was won, is limbering up to get back into the ring.
Farage, who said he would "never" return to UKIP is reported to be in secret talks over the formation of a new party – with a single aim – to deliver Britain's break from the European Union.
The so called Brexit has fallen into doubt as Prime Minister Theresa May's Government struggles to strike a deal with the other 27 member states, and politicians in Brussels like Jean Claude-Juncker, who have dangled the carrot of "cancelling" the divorce.
Farage allegedly met with ex-financial backer Arron Banks to discuss a new party.
The self-titled "bad boys of Brexit" could be joined by Richard Tice, a property developer and co-chairman of the Leave Means Leave campaign group.
A source close to Farage told the Times: "Nigel has always said he would be prepared to don khaki and head back to the front line if there is any chance Brexit will not be delivered and that now looks like a very real threat."
As UKIP faces losing its fourth leader in 16 months, the new movement, with Banks as chairman, could be announced in the coming week.
According to The Times, focus groups are already meeting and a model for the party, which replicates the Tories, has been mooted.
"The internal battles within Ukip have destroyed the party, which is why any new movement needs to be put on a professional footing from the outset," a source close to Banks said.
"The plan is that the movement will eventually morph into a new party with candidates, who have been properly vetted, able to contest seats at the next general election and really hold Theresa May's feet to the fire on Brexit."
Like this story? Share it with a friend!
You can share this story on social media: