Guy Verhofstadt asks if EU official put something in 'disorientated' Nigel Farage's tea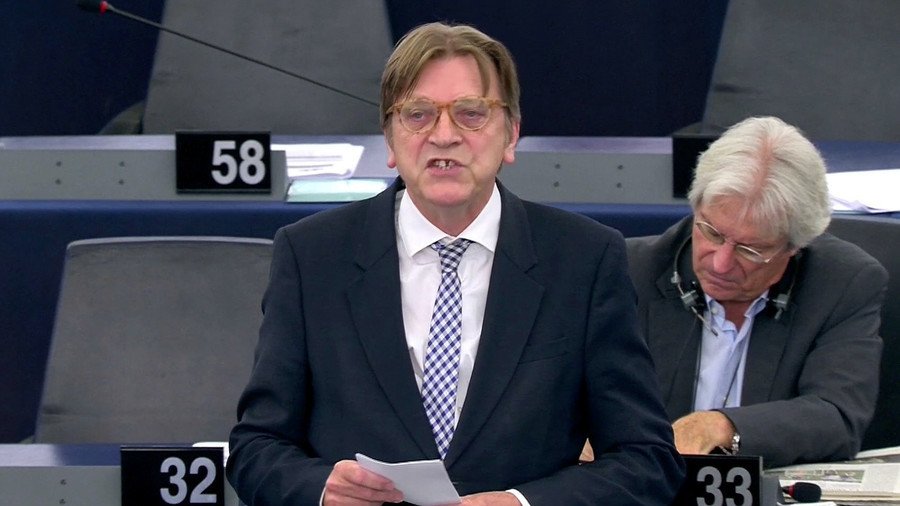 European Parliament Brexit chief Guy Verhofstadt has mocked "disorientated" Nigel Farage and asked whether Michel Barnier, the EU's chief negotiator, had slipped something into the ardent Brexiteer's tea.
Verhofstadt pointed out that Farage had called for a second referendum after he met with Barnier at the European Commission in Brussels recently. Former UKIP leader Farage surprised the public when he called for a second EU vote last week, saying it would strengthen support for the Leave campaign and quash dissenting voices once and for all.
Speaking at the EU Parliament in Strasbourg on Tuesday, Verhofstadt said: "I should have asked them what happened in their meeting. I have to tell you that since that Nigel Farage went in this meeting with Michel Barnier he is apparently completely disorientated.
"I don't know what he put in the coffee or the tea of Nigel Farage because he comes out of this meeting and he backs a second referendum."
Verhofstadt then took aim at British politics beyond UKIP – calling into question UK Prime Minister Theresa May's priorities for her nation and the British government's apparent forgetfulness over EU directives on issues such as plastic bag taxes and credit card charges.
Farage's confusion is contagious: Gove doesnt seem to remember that action on plastic bags stems from EU regulation.PM May doesnt seem to know the ban on credit card surcharges is based on EU directive.The recently announced change to British passports was possible inside the EU

— Guy Verhofstadt (@guyverhofstadt) January 16, 2018
"It's not confusion only in UKIP, but I see the confusion is a little bit widespread in Britain at the moment," Verhofstadt continued."Michael Gove, for example, doesn't seem to remember that the ban on plastic bags is an EU regulation. The prime minister, Mrs May, does not seem to know that the abolition of the charges on credit cards is a consequence of a directive of the EU.
"And then, as Manfred Weber already called it, a whole hilarious thing about passports.
"I'm a liberal so I like blue more than red. So if we can do 27 passports in blue with 12 stars on it, for me ok – but it was certainly not a reason to organize a referendum on it," said the Belgian MEP.
Verhofstadt then warned the UK government that it will not be able to "cherry pick" benefits after leaving the EU. In a press conference on Tuesday morning he said: "The European Parliament won't allow cherry-picking in the Brexit transition. All EU legislation, all EU policies will continue to apply. The only exception is that the UK will no longer be represented in the institutions that decide on legislation and policies."
He added that citizens' rights and the Irish border issues were still not settled. He called for the withdrawal agreement, which was agreed in principle in December, to be "formalized" as soon as possible.
You can share this story on social media: