Policemen suspended over texts about 'raping' crime victims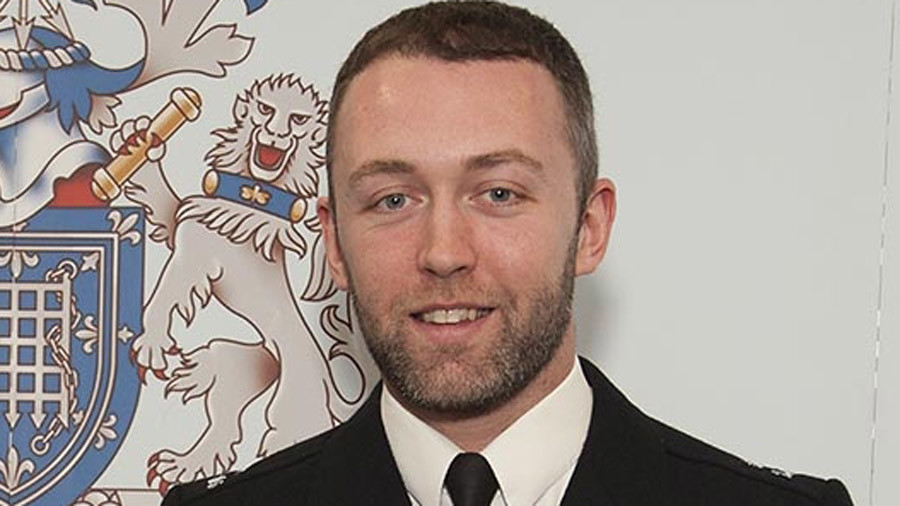 Two cops – including a "hero" firearms expert – have been suspended over text messages that discussed "raping" victims and demanding a sex act from someone they called a "hot slag victim of crime."
Scotland Yard opened a major probe into the behavior of the Metropolitan Police officers after they learned of the disturbing messages during an unrelated case. The shocking material came to light only because the messages had been accidentally handed over to lawyers acting for a Surrey businessman in an entirely unrelated case that has since collapsed.
Scotland Yard is also assessing disturbing videos from a mobile phone that shows suspects being secretly filmed in custody. Other footage is said to show a drunken woman in the back of a police car.
According to the Daily Mail, one of the suspended officers is PC Edward Bengree, 36, who worked at Heathrow Airport. He received a bravery award in 2016 for saving the life of a boy who had stopped breathing. He was hailed by Deputy Commissioner Craig Mackey as a "fantastic example of the values we hold dear within the Metropolitan Police Service."
He now faces questioning over abusive, homophobic, and racist messages found on his phone dating back six years.
The second officer is Detective Constable John Taylor from the Met's elite gangs unit Trident. He has also been suspended after allegedly discussing sexually assaulting victims of crime in a police van while on night shift with Bengree.
In a text-message conversation – seen by the Daily Mail – the two officers joked about rape as they worked in Hounslow, West London, in September 2011. Taylor allegedly wrote: "We'll bring in some hot slag victim of crime." Bengree ended the conversation saying: "I do not condone this. I challenge it. Stop."
Other texts, in March of that year, appear to show the pair chatting about Taylor having sex with a stripper who had been arrested two months earlier. Bengree appeared to suggest the stripper had flirted with his colleague to get out of trouble, to which the detective replied: "Ha, ha ha. I couldn't care less."
Bengree denied any knowledge of the videos and messages, while Taylor declined to comment.
In messages during the London riots on August 2011, Bengree wrote that he was "so upset" he was not there after his brother, who is not a police officer, told him: "It's pretty much 'feel free to hit [rioters] with batons' time." There were also homophobic jibes apparently sent by friends, and messages using a racist term to refer to footballer Ashley Cole, and mocking black victims of crime.
Among the videos was one of a drunken woman in a police car who is asked: "How drunk are you?" She responds: "I'm not so drunk that I don't know that you are filming me right now."
The Met said the case had been referred to the Independent Office for Police Conduct and the Directorate of Professional Standards was investigating if other staff were involved. The force said it is also reviewing if there are any other issues or intelligence relating to the two officers during the six-year period since the material was produced.
A police spokesman said the Met was unable to progress the matter any sooner as the material was in the possession of a man charged by another force for an unrelated matter.
You can share this story on social media: