Tory posters 'stigmatize all homeless,' suggest beggars want money for drugs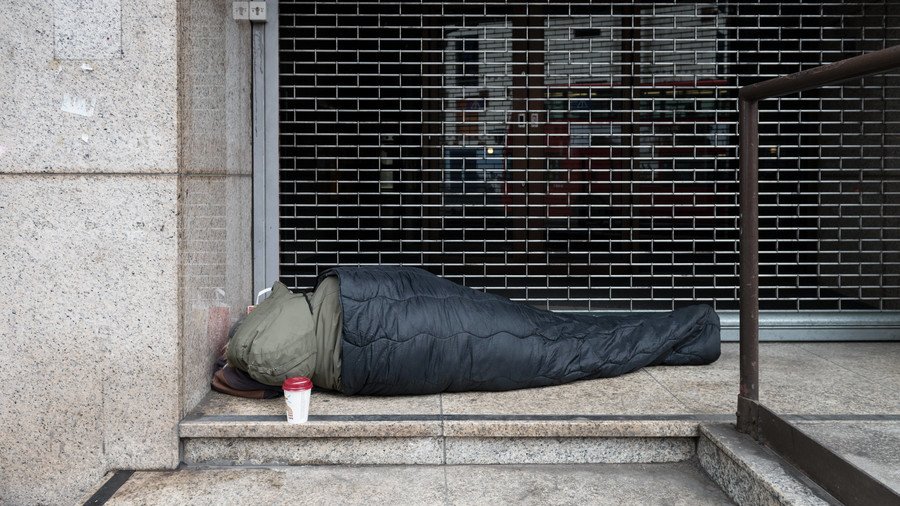 A Tory council is facing a backlash for "demonizing" rough sleepers by urging the public not to give money to homeless people because they might be faking their impoverished condition.
The posters have been scattered around the city of Gloucester. They appear to discourage the public from giving money to the homeless, as they may be better off than they appear.
The posters pose the question: "Are you really helping homeless people?" and add: "In some cases, the people you see sleeping rough are not homeless.
"They are in accommodation, receiving support and benefits."
Below is a picture of a man in a grey hoodie bearing a placard reading:
"Change is more than coins. Think before you give."
The poster recommends contacting homeless outreach workers or donating funds to an established charity.
Matthew Knight, who works for the Gloucestershire-based Elim Housing Association and helps house homeless people, hit out at the posters on Twitter.
"I think it stigmatizes all homeless people," he said.
"It insinuates everybody who is begging is not homeless and wants money for drugs and alcohol."
Terry Pullen, leader of the Labour group on the city council, and prospective parliamentary candidate for Gloucester, Fran Boait, also expressed their dismay at the distasteful posters.
"The Tories should be ashamed they have allowed them to go up … the posters imply that most homeless people are not genuine but trying to con people out of money," they said in a joint statement.
"This is shameful and effectively demonizes one of the most vulnerable groups of people in our society who need our kindness and care. We call upon Gloucester city council to immediately withdraw these posters."
But Jennie Watkins, the council's cabinet member for communities and neighborhoods, defended the posters, saying some donations carry the risk of funding dependencies.
"The launch of our 'Street Aware' campaign is to raise public awareness about
alternative giving. It's a tough message to deliver, but we must consider whether giving money directly to individuals is the best way to support them to make positive and sustainable change.
"Giving money to people who beg may make life on the street easier for them in the short term, but, in the worst case, could feed dependency. It takes more than money to turn a life around.
"The intention behind the poster campaign is to catch the public's attention, to ask them to think about whether their money is helping in the best way and to provide important information about how to refer someone who they may be concerned about for support.
"It is a challenging and sensitive issue, but one we must raise if we are genuine about working together to help people to achieve real change."
You can share this story on social media: