'Social cleansing': Councils buying rough sleepers one-way tickets to get them out of town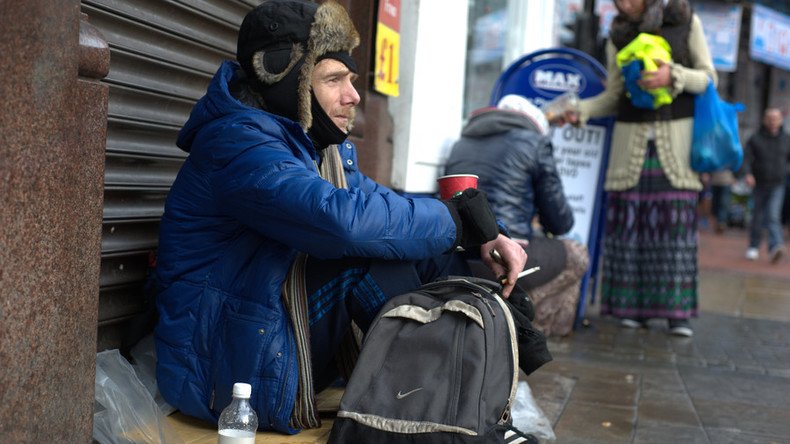 Local councils across England have been accused of "social cleansing" because they are regularly buying one-way tickets for homeless people to get them to leave town.
The "reconnection" strategy has been described as worrying by homelessness charities.
The BBC's Victoria Derbyshire program revealed on Tuesday that councils are paying rough sleepers up to £1,000 ($1,300) to move to a different area.
While some homeless people were sent to places where they had friends or relatives, others were moved to places where they knew no one.
One rough sleeper, Gareth Glendall-Pickton, from Bournemouth, claimed he was recently offered a ticket to Manchester, where he had never been before and where he was a stranger to everyone.
"It made me feel sick," he said. "I've lived here (Bournemouth) all my life ... it's soul-destroying.
"I think what they want to do is to get the homeless people out of Bournemouth, because all the new people coming to the area are seeing all those homeless people sitting there," he told the BBC.
"[The council] see it as making Bournemouth a bad place."
Up to 20 councils in England in areas with the highest levels of homelessness were asked if they had adopted the one-way strategy between 2012 and 2017.
A total of 11 councils responded, of which 10 admitted that they had resorted to using the so-called "reconnection" strategy.
The revelation comes as homelessness levels in England have increased by 130 percent in the past six years to 4,134, according to government statistics.
Claire Matthews, who runs the local soup kitchen, Hope for Food, in Bournemouth, described the practice as "social cleansing, and an abdication of any responsibility on [the council's] part," the BBC reported.
Rick Henderson, Chief Executive of Homeless Link charity, said that if "a person has a support network in a different area, then helping them reconnect can help to end their rough sleeping."
But relocating rough sleepers without offering adequate support can actually "exacerbate their situation, leaving them more isolated and at risk of deteriorating physical and mental health," he told the BBC.
A spokesman for the Department for Communities and Local Government said: "One person without a roof over their head is too many, that's why this Government is investing £550 million ($725 million) to 2020 to tackle rough sleeping."
You can share this story on social media: