PMQs: Corbyn and May fight over poor people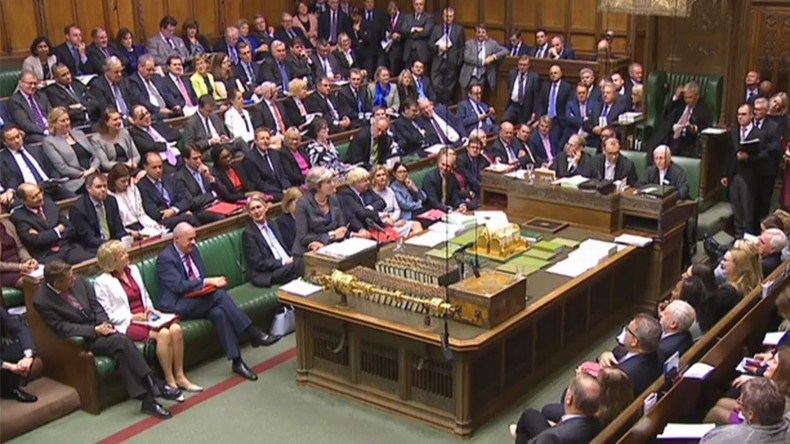 A clear-voiced Theresa May, who has clearly been hitting the cough syrup, managed to get her words out at Prime Minister's Questions (PMQs), using them to explain how much better off the public is under her leadership.
The Tories have achieved record numbers of people in jobs, May said, swerving a mention of those ingenious zero hour contracts keeping so many people in a state of unease.
May praised her Government for "3m more people in jobs, 1.8m more children in good or outstanding schools... record levels of funding to the NHS and record levels of funding into our schools".
(Just ignore that queue of nurses at the food bank).
So, why don't the majority of the working class vote Tory? May was ready to tell us all how Labour offering benefits to the poorest is a "trap" and, actually, taking away their money is better for all of us – especially those of us in work.
"Under Labour 1.4m people spent most of the last decade trapped on out of work benefits," she said.
"The welfare bill went up by 60 percent in real terms, which costs every household an extra £3000 ($3960) per year.
"That is not the way to have a system."
Jeremy Corbyn, apparently taking the advice of former PM David Cameron, appeared in a sharp suit with a straight tie – and his top button done up – although he did not sing the national anthem.
Luckily, smartly dressed Jeremy Corbyn could retort to defend the poor, many of whom feel increasingly disconnected to the Labour Party.
He had another email – this time from Georgina.
"Georgina who contacted me this week," he said.
"All summer we were left with no money to survive- it just stopped," Mr Corbyn quoted from the email.
"We would have lost everything."
Corbyn urged May to end the Universal Credit system.
"Show some leadership," he said.
"Pause Universal Credit, stop driving up debt poverty and homelessness because that's what it does."
The house was raucous – while the Tories very politely booed and jeered, the Labour back benches looked set to break into a chorus of "Ooooh Jeremy Corbyn".
Things got so rowdy, as rowdy as they can in Parliament, that Speaker John Bercow had to intervene.
"The members are becoming very, very over excited – the response from the Prime Minister must be heard," He roared.
May insisted the Department of Work and Pensions (DWP) is doing all it can to assess how benefits are delivered – especially monitoring that 55p-per-minute phone line which the poor have to call to discuss their rights.
Luckily for Theresa, who was rocking leopard print pumps, there were no pranksters on the Labour benches ready to hand her a P45, and the Houses of Parliament managed not to start dropping to bits (unlike the conference venue in Manchester).
Wagging her finger at her opponent, the PM was ready to turn to spotlight on Corbyn and his backbenchers, when she called them out on claims of racism within the party.
Corbyn visibly winced when May mentioned Shelter – and how the charity said Labour's plans would increase homelessness in Britain.
See, the Tories are helping the poor, aren't they?
You can share this story on social media: