Theresa May prankster won't face charges… but how did security let comedian get so close to PM?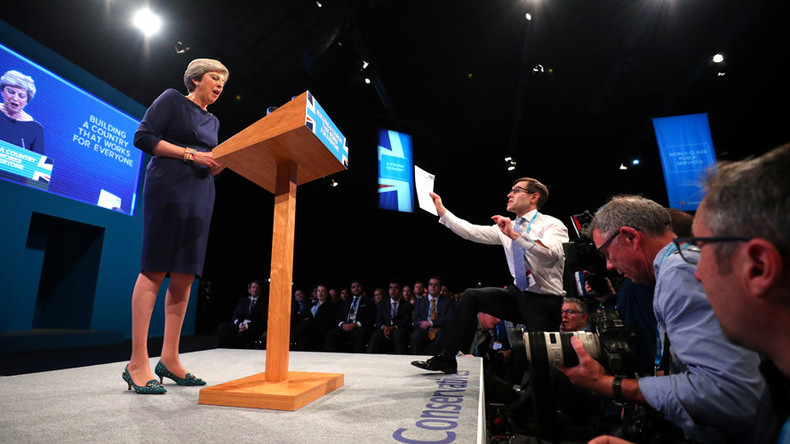 The P45 prank which brought the Conservative Party Conference to a stand-still will not land British comedian Simon Brodkin in any legal trouble. But how did the security operation surrounding Tory top brass fail so badly?
The joker, also known as Lee Nelson, interrupted Prime Minister Theresa May mid-flow when he handed her a work termination document – claiming it was from Boris Johnson.
May abruptly stopped her keynote speech to take the P45 while Brodkin made a scene, waving to Boris Johnson, the foreign secretary, who is accused of plotting to overthrow the PM.
As he was bundled out by security the prankster shouted: "Boris made me do it."
While guards scrambled to remove him and the crowd jeered, Brodkin locked eyes on the foreign secretary and told him: "Boris, job done."
Greater Manchester Police (GMP) arrested Brodkin for breaching public peace but have since confirmed he will not be charged.
Brodkin was released shortly afterwards.
The comedian has carried out high-profile pranks including showering former FIFA president Sepp Blatter with fake banknotes.
Last year at Donald Trump's Turnberry golf resort he hijacked the then-presidential candidate's speech with golf balls emblazoned with swastikas.
May's address went from bad to worse, as she could not stop coughing and struggled over her words.
Then, the icing on the cake, the set behind her began to fall apart.
Critics have insisted there should be an urgent review into how anyone got so close to the PM.
Brodkin had been given legitimate accreditation granting him access to the hall, it has emerged.
Conservative Party chairman Patrick McLoughlin said there would be an investigation into the security breach.
Applicants for accreditation were vetted by both CCHQ and GMP, while the private security firm G4S was in charge on the ground.
"If he's known for being a prankster but doesn't have a criminal record, then that wouldn't necessarily come up on the checks that we do," a GMP spokesman said.
"That could be something that may have come up on the Conservative Party's checks, but I don't know the specifics of their checks. Ours is criminal and terrorism."
Greg Clark, the business secretary, said the man "could have had violent intent" yet he was allowed to stand near the stage for a number of seconds before being removed.
"I think there is a question as to how that came to happen, but given that, knowing that as prime minister there are bad people in the world who want to do physical harm, she stood there resolute," he told Sky News.