P45 prank, coughing fit & stage malfunction turn May's keynote speech into living nightmare (VIDEO)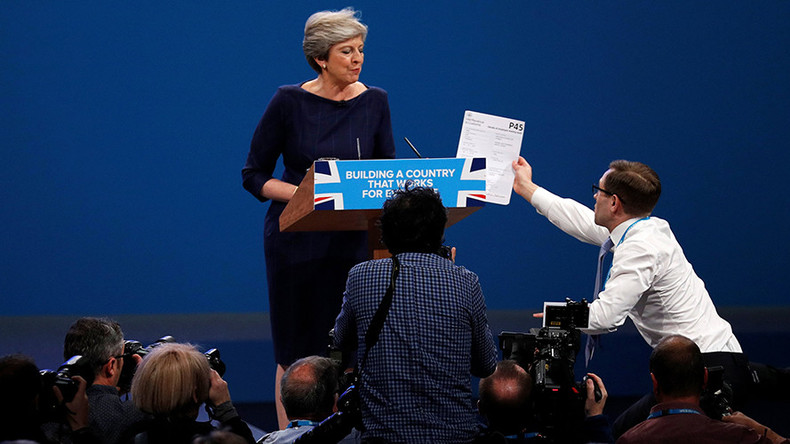 Theresa May's Tory party conference speech turned into a comedy of errors on Wednesday afternoon when she suffered repeated coughing fits, a protester handed her a P45 dismissal notice, and the stage set began to fall apart behind her.
The excruciating series of calamities which befell the PM at the Manchester conference in front of her party and the nation's media are the stuff of slapstick comedy.
P45 prank
May was forced to repeat her lines when a protester ran up to the stage and handed her a huge P45, a tax document usually handed to employees when they are fired.
The P45 gave reasons for her termination as "neither strong or stable," mocking her robotically repetitive election slogan, and "we're a bit worried about Jezza," in reference to the growing popularity of the Labour leader.
The total "tax to date box" was filled in with "ask Phillip," either in reference to the Chancellor Philip Hammond, or May's own businessman husband, who is a senior executive at a $1.4 trillion investment fund that profits from tax avoiding companies.
The request was "signed" by leadership rival Boris Johnson.The protester headed straight for Johnson, who was sitting in the front rows, and shouted at him. As he left the room the comedian shouted: "Boris Johnson made me do it!"
"Boris has left me in the lurch!" May was forced to come to an abrupt stop as the Tory faithful jeered and shouted for security to remove him.
The crowd began shouting "out, out!"
But Twitter went wild for the campaigner, labelling him a "hero."
"I was about to talk about somebody I'd like to give a P45 to," said May, trying to compose herself. "And that's Jeremy Corbyn."

Comedian Lee Nelson has claimed responsibility for the prank. The perpetual prankster's real name is Simon Brodkin. "Boris said, you know, in those corridor meetings 'do me a favour son' and give Theresa this, you know, it's about time things moved forward," Brodkin told reporters as security dragged him from the room
"It was a P45 of course.
"You'll have to ask him – he's denying everything." When asked when he and Boris had the P45 chat, Brodkin claimed it was "just this morning." He has reportedly been arrested.
Brodkin is the same prankster who threw money over Fifa President Sepp Blatter two years ago. The breach has raised major questions over security.
"Gotta love a government we're told can handle national security can't keep REPEAT OFFENDING PRANKSTER Lee Nelson out of their hall," one woman said on Twitter.
"Seems to have been comedian Lee Nelson. How the hell did he get so close to the PM? Huge questions over security," Huff Post deputy political editor Owen Bennet said.
Others believe it did an otherwise boring speech a favor. "Think she must have paid him, cos it sparked big applause," one woman wrote on Twitter.
Coughing fits
The Prime Minister's speech had already been marred by repeated coughing fits, leaving her frontbench colleagues looking despondent.
May has tried to make light of the incident, Tweeting a picture of her cough medicine.
F-off
Things continued to get worse. Even the stage scenery went awry. The letter 'F' fell off the slogan behind the PM, later followed by the letter 'E'.
On a day when the PM really wanted to show her party, the country, and EU negotiators she really means business, May pretty much summed up the chaos blighting her government. Boris must be chuffed.