Britain's hilarious reaction as Trump shuns London... including a lookalike statue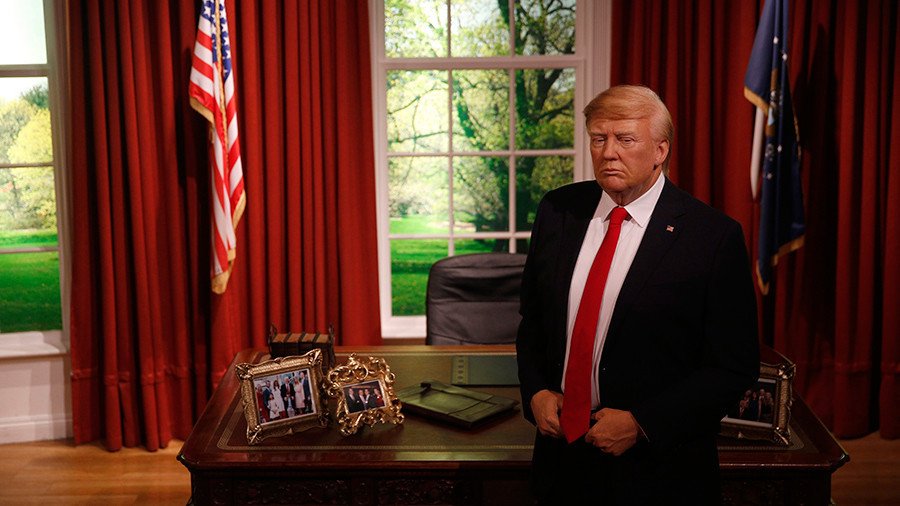 President Donald Trump may have shunned London by canceling his upcoming visit to open the US embassy – but anyone passing by the £1 billion building today will have seen The Donald outside.
Quick thinkers at Madame Tussauds joined Britons' hilarious reaction to the news by sending in their waxwork of the 45th president on Friday.
A life-sized Trump statue was positioned outside the new embassy in Nine Elms, London, before being surrounded by reporters.
Trump canceled his February visit early on Friday morning, confirming on Twitter he would not take Prime Minister Theresa May's offer to come over for a working visit.
Despite suggestions he feared mass protests and security issues, Trump said he had decided to stay in the US because he could not open the embassy as he does not like it.
He tweeted: "Reason I canceled my trip to London is that I am not a big fan of the Obama Administration having sold perhaps the best located and finest embassy in London for 'peanuts,' only to build a new one in an off location for 1.2 billion dollars. Bad deal. Wanted me to cut ribbon-NO!"
When the statue was unveiled in 2016, Madame Tussauds revealed yak hair and squirrel hair were used to replicate Trump's standout style. The statue is also wearing a trademark red tie, US flag pin and navy suit.
"Since Mr Trump was announced as the victorious candidate in what was a nail-biting and hard-fought campaign for both parties, our studio team have been frantically busy matching his infamous glowing tan and trademark hairstyle in time for the start of his presidential reign," Edward Fuller, general manager of Madame Tussauds, explained.
"Our guests will now find him standing imperiously in the Oval Office section within the attraction where he'll reside for the remainder of his presidency."
And it went down a treat.
Channel 5's Andy Bell wrote: "Hats off to @madamtussauds - alarmingly good #Trump."
Another woman said: "Madame Tussauds have placed his waxwork outside the new building. Makes you proud to be British."
Trump was at the center of a hilarious reaction from Brits today who took aim at the White House. The hashtag #ICancelledMyTripToLondon began trending hours after Trump's announcement.
One man said: "Because I found out that Clinton has a card shop there. #ICancelledMyTripToLondon."
A woman joked: "#ICancelledMyTripToLondon because Hadrian hasn't finished building that wall. Shoddy."
While another said: "#ICancelledMyTripToLondon because the cabs are black."
You can share this story on social media: