Trump cancels UK visit… so much for the 'special relationship'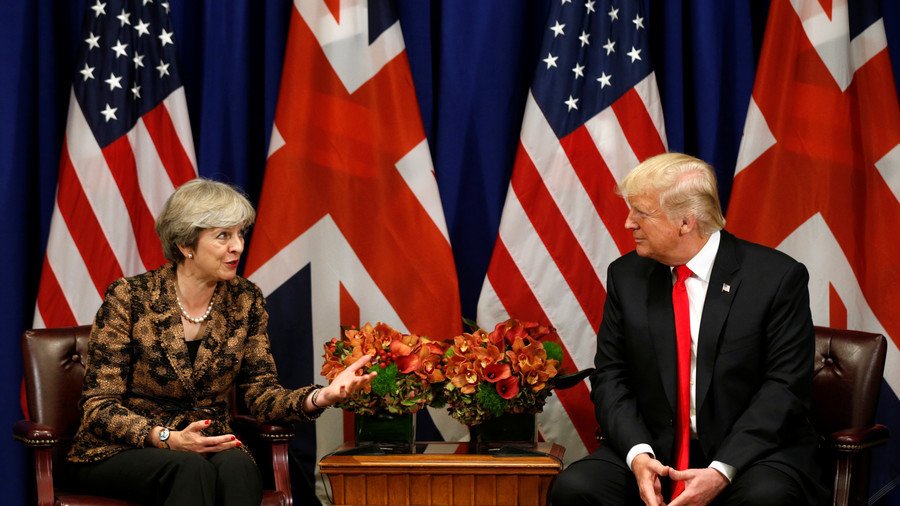 Hardly anyone will buy President Donald Trump's explanation for his abruptly canceled visit to London next month. The real reason, no doubt, was to avoid embarrassing scenes of mass street protests marring his official welcome.
Whatever has become of the so-called "special relationship"?
Nigel Farage, the former UKIP leader and one of the few British politicians who has openly befriended Trump, expressed embarrassment: "It's disappointing. He's been to countries all over the world and yet he's not been to the one with whom he's closest. I think it's disappointing," Farage told the BBC on the back of news over Trump's cancelation.
The United States and Britain have long flattered each other with declarations of having a "special relationship" – a phrase first coined by Winston Churchill during his postwar trip to the US in 1946.
Given that Britain is America's supposedly closest international ally, what does it say about Washington's present standing in the world when the president is obliged to call off his visit – out of concerns that he's not welcome by the British public?
When news broke overnight this week that Trump was pulling out of his "working trip" to London next month, the president sought to lay the blame on the previous Obama administration. During Trump's planned visit – reportedly scheduled for February 26 or 27 – he was due to officially open a new US embassy building.
But in a belated Tweet, Trump huffed that the new embassy costing around $1 billion was a "bad deal." He claimed the Obama administration had sold the erstwhile prestigious diplomatic address in London's Mayfair district for the relatively down-at-heel location in Wandsworth, near Battersea Power Station, south of the Thames River in the capital. Indeed, the latter address does sound a bit "off location."
Trump, in chagrined tone, said he wouldn't be cutting the ceremonial ribbon to unveil the newly built embassy.
Other reports have indicated, however, that the president is more concerned by mounting public opposition to what would be his first official visit to Britain. Previously, Trump had said that he was considering shelving plans to come to Britain due to public animosity towards the president.
It was also reported that Trump was unhappy by the lack of "bells and whistles" being afforded during his would-be stay by the British government. He was, for example, not scheduled to meet with the monarch and official head of state, Queen Elizabeth II, at Buckingham Palace. The curtailed public ceremonies were likely prompted by official concerns of bad publicity ensuing from raucous protests greeting Trump on London's streets.
Officially, Trump has been invited by the Queen for a separate full-state visit at some later date this year. But, as of yet, no date has been scheduled for that full ceremonial honor. The way things are going, even that trip might be in question now.
During state ceremonies, the visiting foreign dignitary is invited to stay at Buckingham Palace with the monarch, treated to the pomp and ceremony of a state banquet, and usually requested to formally address the Houses of Parliament. Barack Obama and his wife were hosted with state honors in 2011. GW Bush, Bill Clinton and other American presidents received the same red-carpet treatment.
Trump's canceled visit next month was separate from his planned state visit. The former, to open the new US embassy, was billed as a "working trip" during which he would meet with British Prime Minister Theresa May at her official residence in Downing Street or at the rural residence at Chequers. But an engagement with the monarch was not on the schedule this time around. That omission is thought to have piqued Trump, who is known to relish lavish overseas welcomes, as noted during previous trips last year to China and France.
It should be embarrassing that no dates have yet been specified for Trump's state visit to Britain. The vacant planning is doubtless due to the same reason why the British government tried to keep Trump's working visit next month a low-key affair. Because Downing Street knows that the British public are none too pleased with this American president coming.
When Theresa May visited President Trump at the White House last January – one week after his inauguration – she was reportedly the first foreign leader to pay respects to the new American leader. It was during May's visit that she extended the official invite from the British monarch to Trump for a state visit.
But May's tribute trip immediately sparked protests among British citizens and politicians alike. Speaker of the House of Commons John Bercow issued a highly unusual statement that he would not permit Trump to address the British parliament, as protocol would normally dictate.
A public petition was launched – garnering 1.8 million signatures to date – demanding that the British state visit by Trump be canceled. Among the public gripes over Trump were his policies, which have been perceived as anti-Muslim and anti-immigrant.
Last month, opposition Labour Party leader Jeremy Corbyn made a vehement call for the British public to mount massive protests in the event of a Trump visit to the country.
Trump also riled public resentment over his insensitive comments during last June's terror attack in London, which killed seven people, when he implied that London Mayor Sadiq Khan had been incompetent on security policy.
The president has even irked Prime Minister May. Although May has tried to weather public criticism of her cordial relations with Trump, the president drew her anger back in November when he re-posted anti-Muslim images belonging to a fringe racist group, Britain First. May publicly rebuked Trump for apparently endorsing the images. He then hit back, retorting that she should pay more focus instead on the alleged problem of jihadist radicalism in Britain.
The British leader and Trump appeared to patch things up during a Christmas greeting phone call on December 19. Both reportedly talked about Trump's then-forthcoming visit to Britain.
One thing that will inevitably be gleaned from the debacle is the dwindling world standing of this American president.
His latest outburst this week reportedly labeling various poor nations as "shithole countries" has sparked more international outrage over Trump's foul-mouth and perceived racist attitude. Increasingly, this president has led the US into frosty isolation from the rest of the world due to his churlish conduct and boorish personal behavior.
Trump's snubbing of the Paris Climate Accord, his disdain for the international Iran nuclear deal, his cowboy-like declaration of Jerusalem as the Israeli capital, and his incendiary threats to totally destroy North Korea – have all contributed to the US becoming more isolated and deprecated by the rest of the world.
And this for a president who proclaims "America First" and "Making America Great Again."
Perhaps the clearest signal yet of "America Last" is Trump now canceling his visit to Britain. Even hard-nosed, thick-headed Trump realizes that for many ordinary Britons the "special relationship" is, for them, a cause of indignation and deep shame.
The statements, views and opinions expressed in this column are solely those of the author and do not necessarily represent those of RT.
You can share this story on social media: