'Security concerns' or ugly embassy? Trump cancels UK visit with ANOTHER odd Tweet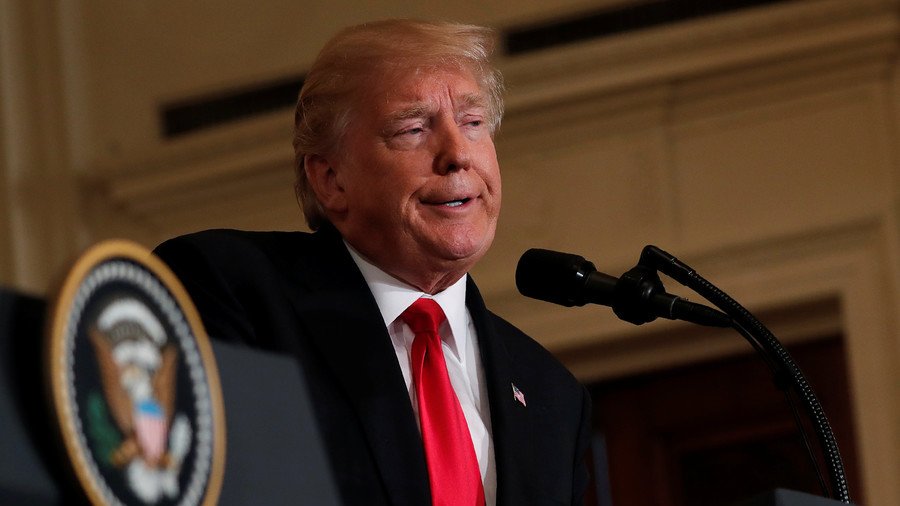 US President Donald Trump has canceled his trip to London with a tweet, in what appears to be a major diplomatic snub to Britain.
Theresa May's embattled government has been sidelined by the other half of the 'special relationship' as Washington pulls out of a public love-in with London that had been scheduled for February.
May was among the first world leaders to invite Trump for a visit, but it was scaled back from an official state appointment to a working trip.
The pair then publicly rowed over Trump refusing to wade in on a case between aviation giants Boeing (US) and Bombardier (Canada) which has threatened thousands of jobs in Northern Ireland.
The spat exploded when Trump called out May on Twitter because she gave a statement about his having shared right wing Islamophobic videos from Britain First.
Yet Trump has offered a peculiar excuse for his pulling out. Apparently, he does not like the new US embassy.
Which of course, he explained on Twitter.
He said:"Reason I canceled my trip to London is that I am not a big fan of the Obama Administration having sold perhaps the best located and finest embassy in London for 'peanuts,' only to build a new one in an off location for 1.2 billion dollars. Bad deal. Wanted me to cut ribbon-NO!"
However, plans for the move and the updates £750m ($1bn) home at Nine Elms site, near Battersea were in fact initiated by the George W Bush administration.
Trump's U-turn has been welcomed by many who were preparing to take to the streets to protest his presence.
In the US, some have suggested there were security concerns over Trump's visit which could have led to the cancellation.
Trump had previously expressed concern about the likelihood of mass protests, telling May in 2016 he did not want to go ahead with a visit until the British public supported it.
London Mayor Sadiq Khan also celebrated the Trump decision. He said Donald Trump "got the message" that many Londoners opposed the visit.
Many Londoners have made it clear that Donald Trump is not welcome here while he is pursuing such a divisive agenda. It seems he's finally got that message. pic.twitter.com/YD0ZHuWtr3

— Sadiq Khan (@SadiqKhan) January 12, 2018
Twitter users called him out on the security fears.
One man wrote: "Grow up! you're a massive child! Be honest!... Isn't the reason you cancelled because the UK unanimously doesn't want you here?"
Another said: "Keep telling yourself that's the reason."
Jason Chaffetz, former US representative in Utah, said: "I briefed @realDonaldTrump about this mess back in Feb/Mar least year. Huge waste of money and major security concerns."
Trump has, however, visited a number of other countries including France, Belgium, Israel, Poland, Germany, China and South Korea.
You can share this story on social media: