Shamed Toby Young 'attended secret eugenics conference with neo-nazis and pedophiles'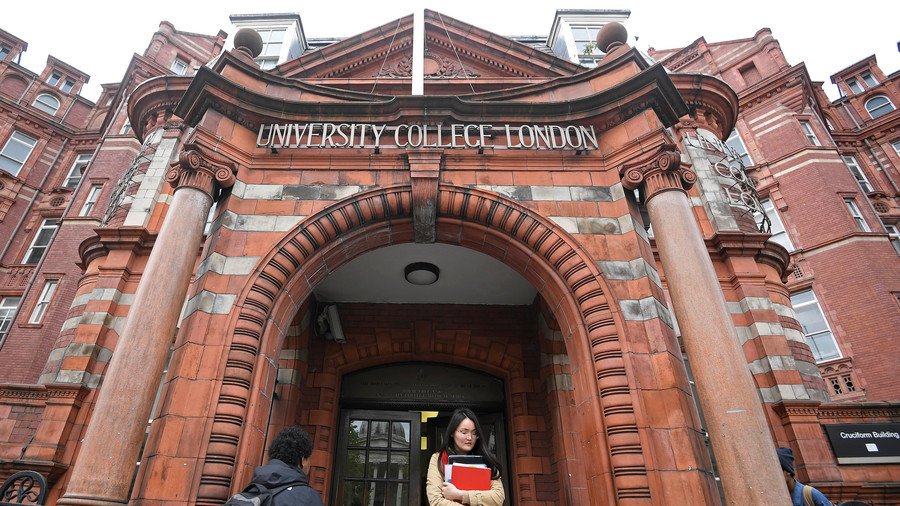 A probe into a lecture series on genetics and race intelligence has been launched after it emerged that an academic at University College London (UCL) hosted debates on the subjects – some of which were attended by Toby Young.
UCL is looking into the 'eugenics' events which reportedly included a speaker who advocated child rape online, among other controversial figures.
Dr James Thompson has overseen the London Conference on Intelligence since 2015 and did so, apparently, without UCL knowing.
Among the topics under discussion at the events which the honorary lecturer hosted were disparities in intelligence linked to race, selective breeding and claims penis length can be used to predict levels of parental care.
A brochure for the 2016 event includes an image of the 19th-century eugenicist Edward Thorndike, an American psychologist who said: "Selective breeding can alter man's capacity to learn, to keep sane, to cherish justice or to be happy."
Shamed journalist-turned-Office for Students (OfS) board member Toby Young was said to have attended at least one event.
A petition calling for Young's dismissal from OfS, a new university regulator, gathered almost 220,000 signatures after remarks from his past surfaced. Among other things, Young had called disability ramps in schools part of "ghastly" inclusivity as well as numerous comments about women's breasts. The writer stepped down amid a huge backlash.
Young, who has a history with eugenics, wrote in 2015 that poorer people should be helped to choose which embryos were allowed to develop, based on intelligence.
Also at the lecture series was Emil Kirkegaard, who was invited despite previously claiming a "compromise" for child pornography would be for pedophiles to have "sex with a sleeping child without them knowing."
Mr Kirkegaard wrote: "One can have sex with some rather young ones (say, any consenting child in puberty) without any moral problems, especially when one is young oneself. If they don't notice it is difficult to see how they cud [sic] be harmed, even if it is rape."
Dr Thompson has now been blocked from hosting any future events while an investigation is carried out.
The university lecturer has also written about what he believes is proof of intelligence differences between black and white children.
He wrote in October 2016: "Government interventions are going to have to be early, very early. By 21 weeks differences in head circumference are apparent. Not 21 weeks of life, 21 weeks of gestation.
"Somewhere between 3 and 4 years of age, tests detect racial differences in intelligence between black and white children. By 7 years of life, the differences are stark."
Thompson denies promoting "eugenics," claiming to the Daily Telegraph the "bulk of research" was focused on intelligence and whether or not it is heritable.
"Eugenics is one topic, but many topics are discussed. The reason we have the meeting at UCL is due to the London School – the idea that intelligence is heritable," he said.
So it wasn't "the one-sided caricature from his armchair critics" but this stunning revelation in Private Eye about Toby Young that would surely have got him sacked. He attended a recent secret eugenics conference with neo-nazis and paedophiles (c) Private Eye pic.twitter.com/AwuRGyTDS6

— Paul Lewis (@paullewismoney) January 10, 2018
A few people are speculating about Toby Young's resignation. To clear up any doubt, I let him know that we were aware of his attendance at a eugenics conference and he provided a statement on Monday morning. He resigned that night; make of that what you will.

— Emma Yeomans (@Effy_Yeomans) January 10, 2018
Former universities minister Jo Johnson said OfS will begin to fine universities if they implement "no-platform policies" or ban discussion of controversial topics.
One UK university came under fire when it hosted a lecture on how to "deal with right-wing attitudes in the classroom."
Sussex University was accused of undermining free speech.
Both students and staff were left reeling over the event which was "hostile" to differing opinions on campus and insinuated those who were right leaning would set out to find conflict.
Dan Hough, a politics professor at the university, published an image of the poster on Twitter, with the caption: "Perhaps we should just talk about, analyze and then evaluate all positions in any given debate, no?"
You can share this story on social media: