'Lonely hearts jihadists' found guilty of Christmas bomb terrorist plot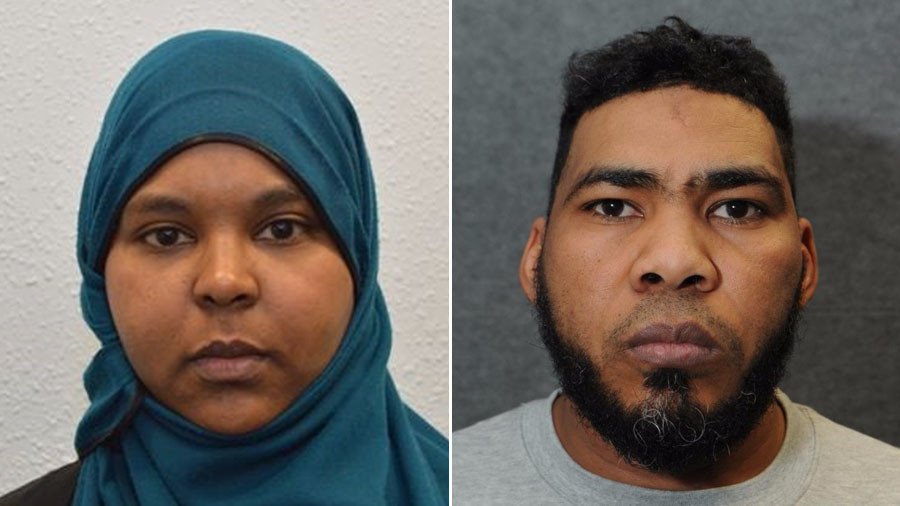 A couple who met on a Muslim dating site called 'SingleMuslim.com' have been found guilty of plotting a terrorist attack with an Islamic State (IS, formerly ISIS) inspired 'Mother of Satan' bomb in Derby.
Sudanese asylum seeker Munir Mohammed, 37, volunteered for a "lone wolf" UK mission as he chatted on Facebook with a man he believed to be an IS commander, according to The Times. He enlisted the help of pharmacist Rowaida El-Hassan, drawing on her knowledge of chemicals needed to make a bomb after meeting her on the dating site. They have been dubbed "the lonely hearts jihadists" by the British media.
At the time of his arrest in December 2016, Mohammed, who was living in Derby, had two of the three components required to make triacetone triperoxide (TATP) explosives, known as 'Mother of Satan,' and thought he had the third. He was captured on in-store CCTV buying acetone-free nail polish from Asda in the mistaken belief that it was a chemical component for the bomb. Investigators believe that it was only his lack of English that resulted in him buying the wrong ingredient.
He was also in possession of a video that offered a step-by-step guide to producing Mother of Satan, and downloaded it the day after it was released by IS in November. The bomb-making guide, which had been posted on Facebook, YouTube and other sites, is understood to have been used by Salman Abedi, the suicide bomber in the Manchester Arena attack in May last year.
Mohammed had also researched the poison, ricin, while working illegally in a factory making sauces for supermarket chains. It is understood that he may have been planning to poison the food.
El-Hassan, 33, a former Boots pharmacist and divorced mother of two from Willesden in northwest London, met Mohammed on SingleMuslim.com, and they "rapidly formed an emotional attachment," prosecutors said. Mohammed sent her gory videos of IS executions, including some carried out by children, while she asked him to "send more," and helped guide him to the right chemicals for his bomb.
Mohammed had followed a migrant route through Turkey and Greece to Britain, abandoning his pregnant wife along the way after she had a miscarriage. He was smuggled into Britain in the back of a lorry and arrested as he walked along the M1 in Northamptonshire, claiming asylum on the basis that he was from Eritrea, although he had actually been living in Sudan.
Once given a room in a shared house for asylum seekers, he used a friend's Dutch identity card to work illegally. He worked in a car wash, washed dishes in a restaurant, and did a stint at a food-processing factory producing sauces for Tesco and Morrisons.
He also worked at a Toyota factory in Derby, and was buying second-hand luxury cars and re-selling them. When police arrested him, they found a BMW 1 series, an Audi A3 and a Seat Ibiza.
Judge Michael Topolski QC, at the Old Bailey, remanded the pair in custody and warned them that they will face jail when they are sentenced on February 22.
You can share this story on social media: