Farage faces-off with Barnier: A look back at Nigel's clashes with EU bigwigs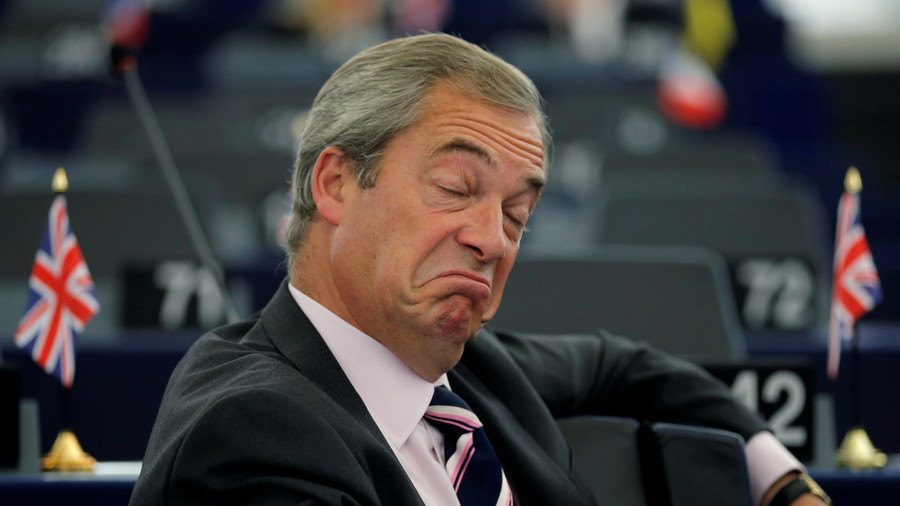 Nigel Farage has been ruled out, crossed off, and repeatedly ignored during Brexit negotiations, but the man who drew up the blueprint for Britain's exit from the European Union is finally getting his chance to be heard.
The former UKIP leader entered a showdown with Brussels' chief Brexit negotiator Michel Barnier on Monday, promising to represent "the 17.4 million" leave voters in the UK – a job which he claims Prime Minister Theresa May and her Brexit secretary, David Davis, have failed in.
Upon reaching out to fans on Twitter, Farage came up with his holy trinity of questioning, vowing to ask:
"Does Michel Barnier understand why Britain voted for Brexit?
"What happens to the EU's economy if there's no trade deal with Britain?
"How does Michel Barnier view mass immigration into the EU coming across the Mediterranean and elsewhere?"
Following the meeting, he told Sky News: "(Mr Barnier) rather takes the view... it was because people had been promised a lot of money for the health service.
"What he really didn't understand at all was that open-door immigration within the EU had been an absolute key driver of this.
"The most disappointing thing is that it's pretty clear in the talks that have happened so far that immigration hasn't even been discussed. We haven't even begun to talk about how we're going to put some proper controls in place."
This is not the first time Farage has got up Brussels' nose. The Brexiteer has a long history of admonishing the union and its supporters, both in his time as MEP and during the referendum campaign.
Brexit negotiator Guy Verhofstadt
A war of words has raged on between Verhofstadt and Farage for as long as Farage has been in Brussels.
In April, Farage branded the Belgian a "raving lunatic" over a piece he wrote in The Observer, in which he claimed June's snap election could not influence Brexit. EU strongman Verhofstadt then accused Farage of "fake news."
The pair clashed again in November over the Paradise Papers tax leaks, with Farage criticizing Verhofstadt after the documents showed how the EU benefited from its collaboration with the Open Society Foundation – a grantmaking network run by US-Hungarian billionaire George Soros.
Bob Geldof
Farage famously faced off with pro-remainer Bob Geldof when their rival flotillas met on the River Thames.
In June 2016, Farage turned a protest into a screaming match on the famous river when he battled ex-rock star Geldof for naval supremacy.
The incident occurred when a pro-Brexit fisherman took to the Thames with Farage in tow, their protest was soon disrupted by Geldof who, along with anti-Brexit supporters aboard a large white pleasure boat, attempted to disrupt them. The clash ended with Brexiteers boarding Geldof's boat.
Following the incident, Farage poured scorn on Geldof for attempting to belittle ordinary working people, stating "It's just insulting to these people."
"Some of these lads have come from the north of Scotland, communities that have never been listened to, where we have seen tens of thousands of jobs lost and a way of life destroyed, and they come here to make their protest and be heard, and they get a multimillionaire laughing at them."
Jean Claude-Juncker
One man who can't wait to see the back of Farage is Jean Claude-Juncker, president of the European Commission. The pair have clashed on numerous occasions.
Arguably Brussels' most prominent Europhile, Juncker, has repeatedly hit out at Farage, who campaigned for Brexit for almost two decades.
Most recently, in August, Farage unleashed a tirade of abuse on Juncker over the EU's failure to step in over Spain's response to the Catalan independence referendum, when police beat up voters in the region who were queuing at polling stations.
Farage blasted Brussels for refusing to rebuke Spain, despite it wading in on national matters elsewhere.
Nigel Farage says @MichelBarnier was as pleased to meet him as David Cameron was to hold the referendum

— Marta Vokshi (@marta_vokshi) January 8, 2018
News from Nigel Farage: I've just come out of my meeting with Michel Barnier. It is clear that the government have not yet discussed border controls in the talks. Deeply worrying for Brexiteers.

— Bob Lister (@boblister_poole) January 8, 2018
"I think European citizens will be stunned that Mr Juncker comes here for his one appearance and there is absolutely no mention made of the dramatic events that have taken place inside a European Union member state, that is allegedly a modern democracy," he said.
"One of the reasons that I always wanted Brexit was because I thought the system of law making whereby the Commission has the sole right to initiate legislation was something that would in fact damage, and in the end destroy, any concept of national democracy.
"And yeah, I've called the European Union undemocratic, I've called it antidemocratic, but never, ever in my fiercest criticisms here did I think we would see the police of a member state of the union injuring 900 people in an attempt to stop them going out to vote."
In 2016, Juncker famously asked Farage in the EU parliament, "why are you here?" after Farage tore into the EU.
Despite being the least popular man in Brussels, Farage has vowed to stay until the bitter end to ensure that his dream of Brexit is completed.
You can share this story on social media: