UKIP leader's new model girlfriend backs Trump, Enoch Powell & death penalty (PHOTOS)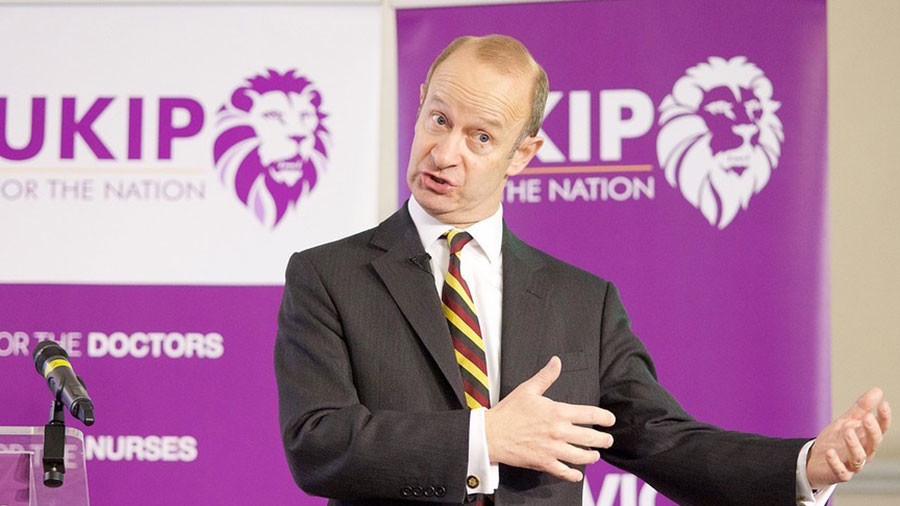 UKIP leader Henry Bolton, who seized the reins of the enfeebled eurosceptic party late last year, has a new lady in his life. But who is Bolton's new Instagram-savvy gal pal Jo Marney?
Although there's a pretty wide age gap between the two, at least they share political inclinations. The 29-year-old glamor model from Kent is an avid Brexiteer.
Her social media profiles are a strange combination of semi-nude photographs, right-wing political statements, and photos of her dog, Lukie.
A recent addition to her collection of happy snaps is UKIP leader Bolton. The twice-married dad-of-three, who is 25 years her senior, has confirmed the pair are a couple. Asked by the Murdoch-owned tabloid the Sun if he was in a relationship with Marney, he said "the answer is yes."
Although it is unknown how long the pair have been officially an item, social media shows the duo spent Christmas and New Year together.
In July, 54-year-old Bolton told the Sun he had split up with his Russian wife Tatiana, 42. Sources close to Bolton say the UKIP leader's relationship with Marney did not begin until after he had split with his wife.
In a message to UKIP members, Bolton spread the news about his blossoming romance, denying that it was a "clandestine affair."
"In recent weeks, I've had a change in my relationship status," he said.
"If you follow me on social media – and hopefully you all do – you will have already seen that recently I have spent time with somebody who has become increasingly important to me.
"This isn't something that I've hidden."
Bolton went on to assure party members that his new love "in no way distracts me or our party from the vital mission we have ahead of us."
"Whilst I fully accept that as a national political figure I can expect to be the subject of media attention, I also believe we're all entitled to a certain degree of privacy," he added.
"As such, I'll be making no further comment on the matter."
A friend told the Sun that Bolton and Marney's relationship "certainly took us all by surprise, but Jo is one of the UKIP family now.
"She's lovely and clever and wants to help and support Henry."
If her social media accounts are anything to go by, Jo Marney is no shrinking violet. As well as for skin-baring photographs, she uses her platforms to diffuse her right-wing views, and is unabashed in sharing disparaging thoughts on the EU, taking to Twitter to call the bloc "gangsters".
"[The] EU want to make a 'United states of Europe,'" she said.
"We should be defying them in every way we can and working to get our own identity back and this includes passports. I wouldn't care if they made the passports pink with polka dots on provided it's not what that bunch of gangsters wants."
She has also taken to the web to label a transgender teen on TV an "attention seeker" and called UK media personality Samantha Fox a "money grabbing old bat" for her (Fox's) claims that Partridge Family star David Cassidy had sexually assaulted her in 1985.
She's also pro-Trump. Recently she accused Apple of an anti-Trump bias after her phone's predictive text offered the name of the POTUS after the words "worried about." Her claims, however, were quickly debunked in the RT office, when no other iPhone came up with the same anti-republican text prediction.
Marney is also apparently an avid reader. She regularly shares the titles of books she's read. They include works on Winston Churchill, 'The Bad Boys of Brexit' by the Leave EU campaign co-founder Arron Banks, and 'Freedom & Reality' by Enoch Powell - a former MP and minister, infamous for his anti-immigration 'Rivers of Blood' speech in the late 1960s.
Marney has also supported bringing back the death penalty, calling for those behind the Parsons Green terrorist attack to be executed. "If he is convicted beyond all doubt then this is exactly the kind of case which I think should carry the death penalty," she said. She has since made her Facebook profile private.
Bolton won the UKIP leadership election after the party was devastated in the June 2017 general election. Then-leader Paul Nuttall was unable to replicate the surge the party enjoyed in 2015 and ahead of the Brexit referendum under Nigel Farage (whose son Marney has previously been linked to). UKIP is now widely seen as a spent force in UK politics now that the ruling Conservative Party is enacting many of its core policies.
You can share this story on social media: