Did Britain spy on Trump? Tony Blair thinks so… or so he allegedly told a senior White House aide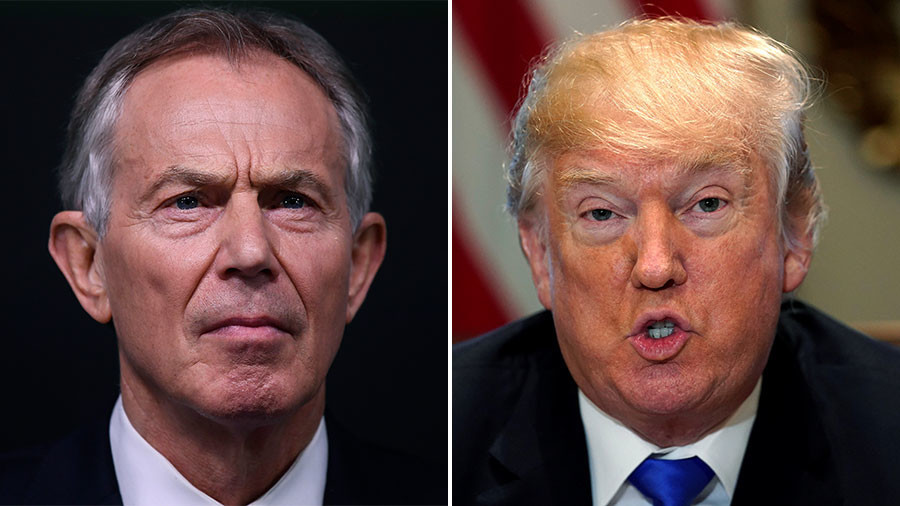 Tony Blair has denied sharing a "juicy rumor" with White House insiders. The ex-PM reportedly told Trump's son-in-law Jared Kushner that British spies had the US presidential campaign under surveillance.
An explosive book, written by journalist Michael Wolff, details the exchange between the former Labour leader, Kushner, and a senior aide to the POTUS in February 2017.
According to the tell-all book, 'Fire and Fury: Inside the Trump White House,' Blair spilled the beans that British spies had "the Trump campaign staff under surveillance, monitoring its telephone calls and other communications."
The former PM reportedly gave the impression also that the Obama administration had suggested that British surveillance might be helpful.
Blair had apparently been "angling" for a post-election Middle East adviser role to Trump when he allegedly shared the dirty little secrets of British intelligence.
Representatives for Blair have denied both claims. A spokeswoman for the former PM called the allegations a "complete and total fabrication," and that Blair had never been vying for the envoy role.
Speaking on Radio 4 on Thursday Blair echoed his spokeswoman, stating that the accusations against him are a "complete fabrication" and an "invention". He also said that the claim he was going for the envoy job was untrue, and he was already Middle East envoy to the Quartet.
Shortly after Blair's tip-off the so-called 'special relationship' between the UK and US soured, when then-White House press secretary Sean Spicer claimed that British intelligence agency GCHQ had spied on Trump Tower during the election. GCHQ called Spicer's allegations "utterly ridiculous."
The book also revealed that Trump had never expected to become president, using the election campaign as a branding tool instead of a serious political move. Wolff's book says the First Lady wept when her husband won, while his daughter Ivanka dreams of becoming the first female president.
The book also alleges that Trump's former chief political strategist had said that a meeting between Trump officials and a lawyer with links to the Kremlin was tantamount to "treason."
The off-kilter POTUS has since released a statement questioning Bannon's mental health: "Steve Bannon has nothing to do with me or my presidency," he said. "When he was fired, he not only lost his job, he lost his mind."
A spokeswoman for Mrs Trump described the book as "bargain fiction." Stephanie Grisham added: "Mrs Trump supported her husband's decision to run for president. She was confident he would win and very happy when he did."
You can share this story on social media: