Ex-PM David Cameron jokes he doesn't have to listen to Trump's 'wiretaps' anymore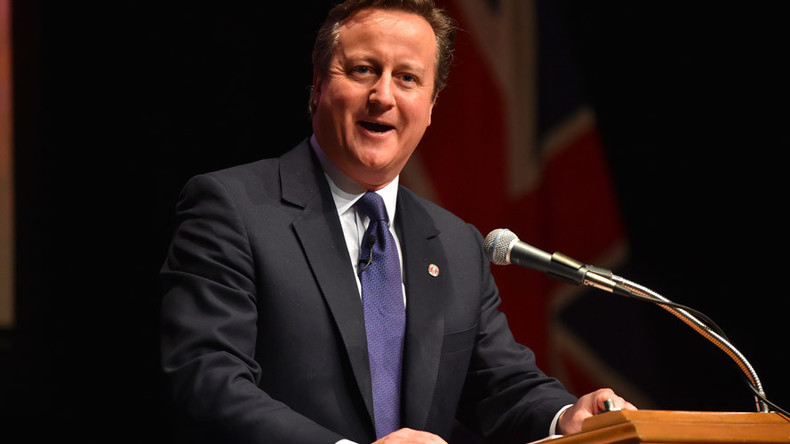 David Cameron has joked that he's glad he doesn't have to listen to Donald Trump's "wiretapped" conversations anymore now he's no longer prime minister of Britain.
"Just to be clear, that's a joke," he added, speaking to students at Brown University in the United States on Monday. He was addressing unsubstantiated claims repeated by the White House that Britain's intelligence agency GCHQ helped Barack Obama spy on Trump during the 2016 election.
The end of his leadership has also seen the end of invitations from Russian President Vladimir Putin to go hunting with him, Cameron quipped.
"I'm very fond of riding horses, but I don't look quite the same with my shirt off," he said in reference to photographs of Putin riding with no top on.
According to the Providence Journal, Cameron also touched on Brexit and how to 'make America great again' in front of a sold-out audience of 2,400.
He said he was optimistic that shared British and American values of freedom, equality and justice will prevail over nationalism and isolation.
The US and UK are, Cameron said, "the guardians of freedom, of tolerance, of equality and yes, of justice. Fight for them and we really will be great again… Far from being in retreat, democracy has been on the march."
In what appeared to be a reference to Trump's policies since he took office two months ago, including invoking a so-called 'Muslim travel ban' and allocating funds to build a border wall with Mexico, Cameron said: "There is a powerful moral argument that we should love our neighbor, whether at home or the other side of the world."
Cameron, who resigned after leading the failed 'Remain' campaign in June's EU referendum, went on to say the negotiations of untangling Britain from the EU are "not impossible to get right."

"Leaving the European Union does not mean we're leaving Europe," he said.
Since late last year, Cameron has embarked on a lucrative US speaking tour, the proceeds of which he does not need to declare publicly, having resigned as an MP in the wake of his departure from Downing Street.
You can share this story on social media: