Cringeworthy Cameron: Ex-PM shoots toe-curling Snapchat video with Arnold Schwarzenegger (VIDEO)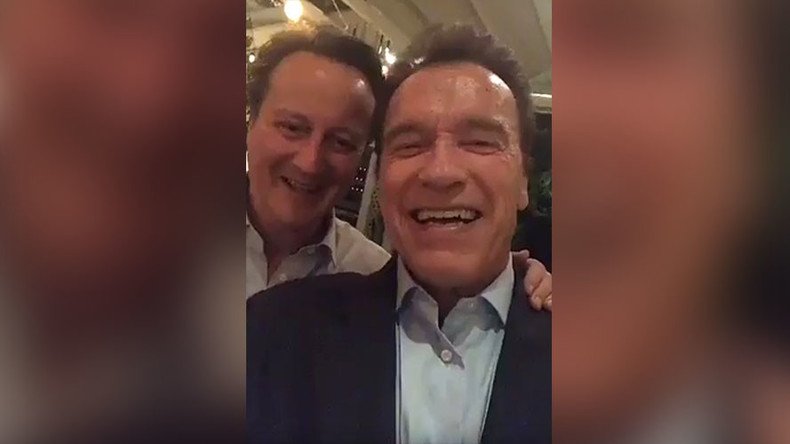 Former UK Prime Minister David Cameron has promised he'll "be back" as he channelled Arnold Schwarzenegger's Terminator in a Snapchat video with the Hollywood star.
In the video, captioned "with my great friend David Cameron," the movie star and former governor of California says: "I'm here with my good friend David Cameron, from England, the ex-prime minister."
"I'm with the governor, he did a great job, and I'll be back," Cameron replies.
Schwarzenegger can then be heard saying "Oh, wow."
The pair have been friendly for some time, with Schwarzenegger making an official trip to Number 10 in 2010 while governor of California.
"You are the definition of a great public servant," the film star tweeted when Cameron left office after losing the Brexit referendum.
Since leaving office, Cameron has been spotted holidaying in a number of locations, including on the Mediterranean island of Corsica. There he rented a villa thought to have cost around £15,000 ($18,700) for the week and was photographed wearing a pair of £225 trunks.
He was also seen on the remote Scottish island of Jura, and spent Christmas basking in the Caribbean sunshine in Antigua.
Schwarzenegger and Cameron are likely to be in Los Angeles, where Schwarzenegger posted a video responding to US President Donald Trump the day before.
Trump began a National Prayer Breakfast speech with a joke about Schwarzenegger's TV ratings as star of The Apprentice (Trump's previous job), saying he was "praying for Arnold Schwarzenegger" after his "disastrous ratings."
Schwarzenegger quickly posted a retort to his Twitter account: "Hey Donald, I have a great idea. Why don't we switch jobs? You take over TV, because you're such an expert in ratings, and I take over your job, and then people can finally sleep comfortably again."
This, however, is not possible. Schwarzenegger is ineligible to be president of the United States because he was born in Austria, and only natural born citizens of the US can by law hold the office.
You can share this story on social media: