Forget the single market! Britain could join hated Trans-Pacific Partnership instead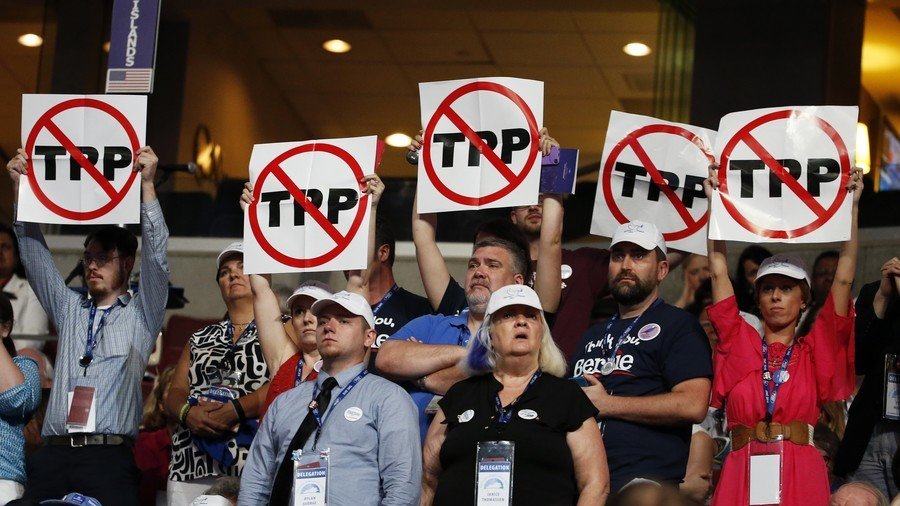 Britain could join the controversial Trans-Pacific Partnership (TPP) to kick-start exports after Brexit. If the unusual move goes ahead, the UK would be the first member without borders on the Pacific Ocean or South China Sea.
The proposal is being developed by Liam Fox's Department for International Trade. The group lost the United States, its largest member, when President Donald Trump withdrew from the agreement last year. The 11 remaining members, which include Japan, Canada and Australia, agreed in November to continue with a successor deal.
Trade minister Greg Hands told the Financial Times there is no geographical restriction on Britain joining trade groups. "Nothing is excluded in all of this," he said. "With these kind of plurilateral relationships, there doesn't have to be any geographical restriction."
A Department for International Trade spokeswoman added: "We have set up 14 trade working groups across 21 countries to explore the best ways of progressing our trade and investment relationships across the world. It is early days, but as our trade policy minister has pointed out, we are not excluding future talks on plurilateral relationships."
It is likely, however, that any agreement would have to wait until the TPP has been revised following US withdrawal, and after the UK settles its departure from the EU. The UK is not allowed to make trade deals before it formally leaves the bloc.
Nick Dearden, the director of campaign group Global Justice Now, told RT that Britain joining the TPP would mean "giving big business the power to sue our government in special corporate courts … higher intellectual property provisions to meet the wildest dreams of the big pharmaceutical corporations, and it would mean locking in privatization of public services." He added: "It's a charter for big businesses in Britain."
Dearden says at the moment, MPs have no power to stop these "extreme plans," which "the British people have had no discussion about."
"That's why it's so important that we amend the trade bill which will be discussed in parliament next week. We must give MPs to ability to scrutinize, to amend, and if necessary to stop these extreme deals."
The UK's trade relationship with TPP countries pales in comparison to its existing ones with fellow EU members or the US. Japan, by far the largest economy in the TPP, accounted for just 1.6 percent of the UK's goods exports in 2016, according to MIT's Observatory of Economic Complexity, which compiles global trade data. All 11 TPP countries combined accounted for less than 8 percent of UK goods exported last year. By comparison, Germany alone accounted for 11 percent.
The TPP, signed under former US president Barack Obama in early 2016, is designed to deepen economic ties between nations by slashing tariffs and fostering trade to boost growth. The agreement was designed so that it could eventually create a new single market - not dissimilar to the EU.
However, the agreement has been marred with controversy. Negotiations took place over seven years, in secret, and led to the suspicion that it would largely benefit corporations and their shareholders. People only got an idea of how the extensive trade deal would affect lives when a draft copy was leaked by WikiLeaks and triggered worldwide protests. Leaks showed that multinational companies like Monsanto would get extraordinary new powers.
Trump withdrew from the agreement last year, saying: "We've been talking about [withdrawal] for a long time. It's a great thing for the American worker."
Labour criticized the UK government's interest in TPP, saying that it should focus closer to home – in particular on Britain's "key future trading arrangement" with the EU. "Of course [TPP] could be helpful but it is not the main event, and at the moment the government is making a hash of that," said Barry Gardiner, the shadow trade secretary.
"This smacks of desperation," said Tim Farron, former Liberal Democrat leader. "These people want us to leave a market on our doorstep and join a different, smaller one on the other side of the world. It's all pie-in-sky thinking."
The UK cabinet has yet to discuss Britain's potential membership of TPP. Michael Gove, the environment secretary, said in December that parliament would have an effective veto over any trade deal.
You can share this story on social media: