Six suspected members of banned neo-Nazi terrorist group National Action arrested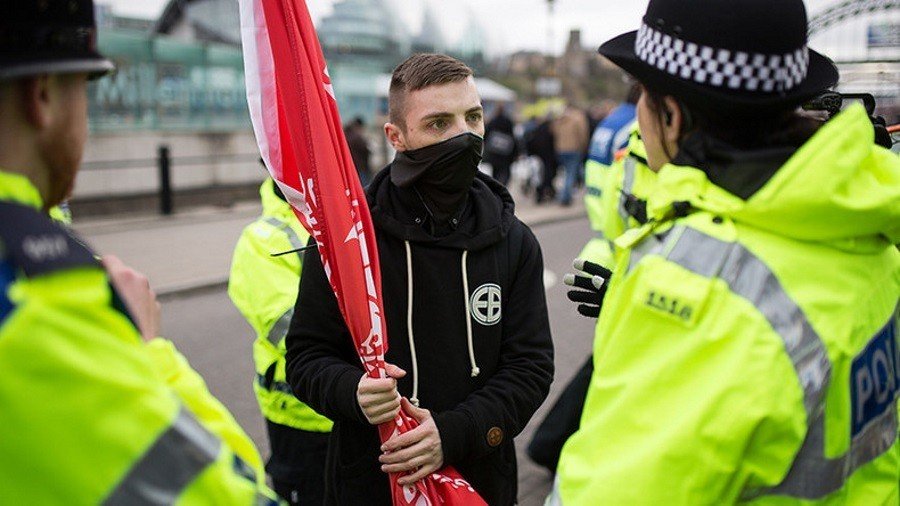 Six people have been arrested on suspicion of being members of banned far-right group National Action. Counter-terrorism police swooped on suspects in early morning raids on Wednesday.
The five men from Cambridge, Banbury, Wolverhampton, Leicester and Stockport - and a woman from Banbury - were detained by police. All six are being held at a police station in the West Midlands.
Police said the suspects, aged between 21 and 37, were detained under Section 41 of the Terrorism Act. A number of properties are being searched in connection with the arrests.
In a statement, West Midlands Police said the arrests were "pre-planned and intelligence led," and insisted there is no threat to public safety.
National Action became the UK's first-ever neo-Nazi terrorist group to be banned in the UK when the government outlawed it in December 2016. The banning of the group makes it a crime to be a member or supporter, punishable by a maximum of ten years in prison.
The ban came after the murder of Labour MP Jo Cox, who was shot and stabbed to death by far-right extremist Thomas Mair in the run-up to the EU referendum. He was sentenced to life imprisonment last year.
National Action extols Mair. His first words said in court - "Death to traitors, freedom for Britain" - have since been adopted by National Action as its motto.
Last year, three alleged neo-Nazis and National Action members - including two British soldiers - appeared in court accused of joining a terrorist group. A provisional trial date has been set for March 5, 2018.
Eleven other people suspected of being part of National Action were arrested last September. Of those arrested, five were allegedly planning terrorist acts understood to relate to "threats against individuals."
The extreme right-wing group emerged in 2013. Before its website was taken down by authorities, it boasted of being "more radical than the BNP [British National Party]" and said it targeted students and universities in the UK for members.
It is openly racist and homophobic. Its website displayed anti-Semitic imagery and lengthy quotations by Adolf Hitler. It also heaps praise on mass killer Anders Breivik, who murdered 87 people in a shooting attack at a summer camp in Norway and a bombing in Oslo in 2011. Last year, it held a 'Miss Hitler' competition.
READ MORE: Neo-Nazi group crowns Scottish woman 'Miss Hitler 2016'
The group has been operating under various new names since it was banned in order to evade authorities. 'Scottish Dawn' and 'NS131' (National Socialist Anti-Capitalist Action) have been used as aliases. There remains concern members will simply continue to change the organization's name.
You can share this story on social media: