Neo-Nazi group crowns Scottish woman 'Miss Hitler 2016'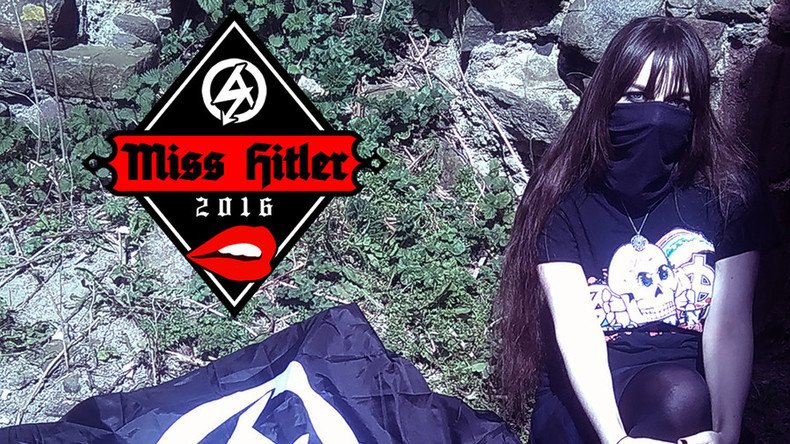 A Scottish woman has been named "Miss Hitler 2016" in a competition organized by British neo-Nazi youth movement National Action.
The winner has not been identified and is known only as 'A-Bus-Full-Of-Retards.' She poses on the group's website giving the Heil Hitler salute with the lower part of her face covered.
"I am an NA activist living in Scotland and a dedicated member of our organization," she says in an interview on the group's website.
"I didn't want to believe that Jews are the enemy as I was brought up to believe they are very similar to Christians. Eventually the Jewish propaganda became too obvious to ignore and so I became involved with NA."
The woman goes on to say that if she could kill one person and "get away with it," it would be German Chancellor Angela Merkel.
"I would put Angela Merkel (without any protection) in one of her camps and let her pet refugees do the rest."
While not much is known about 'Bus-Full-Of-Retards,' she says she enjoys "reading, browsing esoteric memes and watching the reds lose their sh*t over our publicity stunts."
She says she has lost friends over the years because of their "anti-fascist views" but now has a life partner and best friend "without whom I would be a very lonely Nazi."
"There are some people who I used to be friends with but because of their openly anti-fascist views, I no longer speak to. It makes me sad sometimes as I used to really enjoy their company."
The woman says she is proud to be an NA member because of how "uncompromising" it is with its beliefs.
"This brutal honesty allows us to distinguish between the dedicated Nazis and absolute p*ssies.
"Without women who share our beliefs, we wouldn't be able to bring up the next generation of National Socialists who would be much more prepared for the future than many people are today," she says.
The white supremacist group says the competition was set up to raise awareness of its female supporters.
"Many comment that they see women at our demonstrations but relatively little is known about them and they rarely get much spotlight or recognition.
"We organized this competition to give our girls a chance to express their beliefs and share their motivations for embracing National Socialism. We were not disappointed!
"We hope this will grant a unique insight into our movement that will change the widely held preconceptions society has about the far right."
The competition was based on contestants being interviewed for the site under a pseudonym, accompanied by photos in NA T-shirts with their faces covered.
Jewish leaders have condemned the competition, saying it is the "ugliest beauty contest ever held" and calling the contestants "cowardly" for covering up their faces.
What is National Action?
The extreme right-wing youth group emerged from the far right in 2013. It boasts of being "more radical than the BNP [British National Party]" and targets students and universities in the UK for members.
It is openly racist and homophobic. Its website displays anti-Semitic imagery and lengthy quotations by Adolf Hitler. Its motto is "For a Free White Britain."
It also heaps praise on mass killer Anders Breivik, who murdered 87 people in Norway in 2011.
According to anti-fascist group Hope not Hate, NA is run by a group of men in their 20s, including Benjamin Raymond and Alex Davies. It is not known how big the group is.
The group is secretive and has rules to prevent members from talking openly about it.
"You do not talk about National Action. Keeping your mouth shut is a valuable life skill," its website reads.
In November 2014, a series of homes belonging to NA activists in Liverpool were raided by police and one member, Garron Helm, was later jailed for threatening Jewish MP Luciana Berger.
In June 2015, one of its members, Zack Davies, 26, was found guilty of the attempted murder of a Sikh man in Flintshire. He claimed this was revenge for the murder of soldier Lee Rigby by two Islamic extremists.
In August 2015, the group attempted to hold a "White Man March" in Liverpool. Strong opposition forced organizers to cancel the march before taking refuge in the lost luggage collection point at Lime Street Station.
You can share this story on social media: