'No one should breathe their last in a place like this': Homeless man dies on Christmas Eve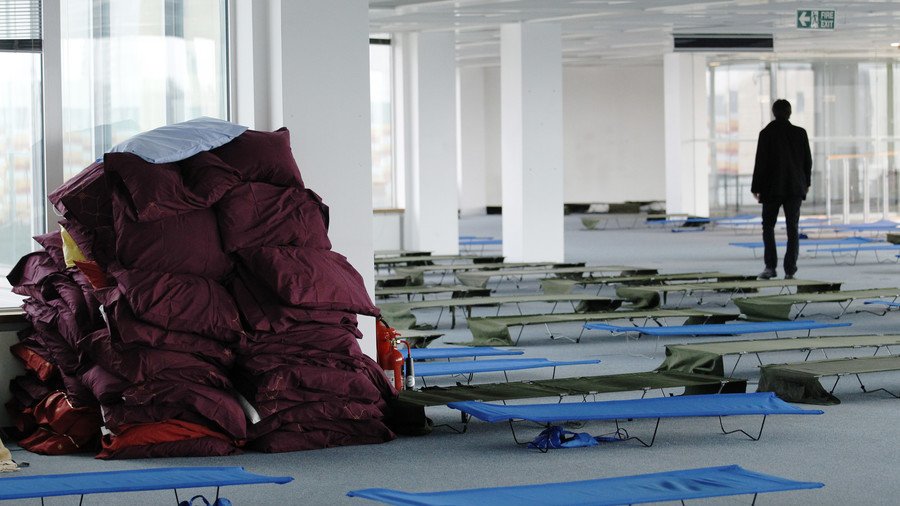 Devastated volunteers have told of how a homeless man died in a packed-out London shelter on Christmas Eve. The unfortunate man was found dead under a blanket on the floor.
A worker for the charity Crisis at Christmas revealed how police and paramedics rushed to the scene but the man could not be revived. He passed away "gently" according to shift leader Ros Ponder, who told how she had to break the news of his death to volunteers and other homeless people.
"The paramedics, police, fellow guests and volunteers did everything they could to keep him alive and respect his dignity. He was somewhere warm and dry with people who cared. At least he wasn't out on the street," she posted on Facebook.
"Everything I said was true. But the bit I missed out was how bloody angry I felt. No one should be taking their last breath in a place like this – on the floor of a sports hall, in a makeshift dormitory shared with 130 other people who had nowhere else to go.
"We are not living in Victorian times. This is 21st-century Britain. We're a nation that spends more than £78 billion on Christmas food, gifts and parties... and yet more and more people are living on our streets – curled up in doorways, on buses, park benches, even in dustbins.
"The average age of death for a homeless person in this country is just 47. We should all be horrified."
Social media users have shared the post hundreds of times as Ros called for more effort from the Government and everyday people.
"In 2018 let's all try a bit harder to put an end to this sh*t. Donate some time or money to a homeless charity, add your name to Crisis' and Shelter's campaigns, shout at your local MP. Be angry, be appalled, be anything you like – just don't ignore it!"
In a separate post Ros said Labour leader Jeremy Corbyn, who has repeatedly challenged the degree of effort made by the Government to end homelessness, turned up at the shelter.
"One of the most difficult days I've ever had at Crisis ended with an unannounced visit from Jeremy Corbyn, who wandered into our shelter on his own (without media or any entourage) and presented me with a box of chocolates!
"He then spent time chatting to volunteers and guests, some of whom he recognized and remembered by name from other homeless services.
"On a simple, human level that's pretty impressive."
Crisis opens a number of shelters over the Christmas period, including The Gate, "for those with alcohol or drug dependencies," as well as the Outreach, Link, Winters and Women's rough sleepers' centers.
You can share this story on social media: