Saudi crown prince to visit Britain despite Yemen 'catastrophe'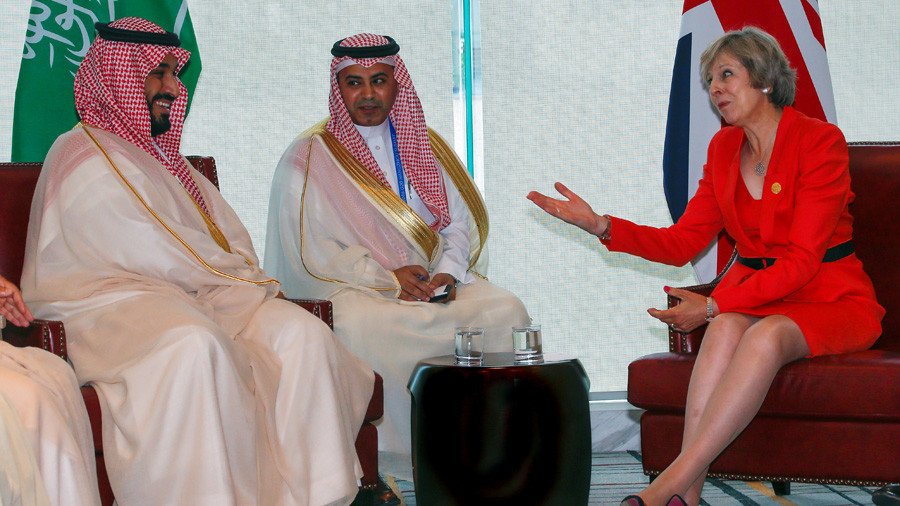 Saudi Arabian Crown Prince Mohammed bin Salman will visit Britain next year, according to Downing Street. It will likely intensify claims Theresa May is cozying up to the architect of the "human catastrophe" unfolding in Yemen.
"The prime minister looks forward to welcoming the crown prince to the UK in the New Year," a spokeswoman said following a call between May, the crown prince and Saudi King Salman bin Abdulaziz Al Saud.
It follows the PM visiting the crown prince in the Saudi capital, Riyadh, last November.
On that occasion, she called on the royal to lift a blockade in Yemen that humanitarian groups say is causing massive and unnecessary famine and disease as it deprives desperate and innocent people of food and vital medicines.
It was reported on Thursday that a cholera outbreak in the country has now reached 1 million cases. Following international pressure, Saudi Arabia seems to have agreed to lift the blockade for 30 days.
A Saudi-led coalition has been spearheading a bombing campaign against Yemen's Iran-backed Houthi rebels since 2015, and hopes to restore the UN-recognized government of President Abdrabbuh Mansur Hadi.
But while more than 1,000 days have passed since the conflict began, little progress has been made towards a resolution.
The UK has faced widespread backlash for failing to outright condemn Saudi Arabia – its closest ally in the Middle East – over its offensive in Yemen, and for failing to halt its arms sales to the country, despite compelling evidence that the weapons are being used in violation of international humanitarian law.
According to Campaign Against Arms Trade (CAAT), the UK approved arms sales worth £4.6 billion (US$6.1 billion) to Saudi Arabia in the past two years. By contrast, it has sent £155 million to war-torn Yemen in 2017.
Amid reports of 10,000 people being killed and 3 million displaced since the conflict began, campaigners are now calling for UK Attorney General Jeremy Wright to prosecute Saudi-led coalition officers and states over their alleged war crimes.
Pointing out that "any civilian site is considered sacred under the Geneva Conventions and its Protocols," the campaigners want Britain to intervene and to hold the alleged criminals to account under UK statute.
Kim Sharif, director of human rights for Yemen, said: "The UK has a moral and legal duty to uphold the rule of law.
"The government has willingly ignored the atrocities that have been inflicted on the people of Yemen, and has been totally complicit in the destruction.
"We believe that Saudi forces are committing war crimes, and violating the Geneva Convention.
"We are calling for this to be investigated immediately, and are confident that there is jurisdiction to bring such proceedings in UK courts," Sharif concluded.
You can share this story on social media: