Prosecute Saudi Arabia for Yemen war crimes, rights group urges Britain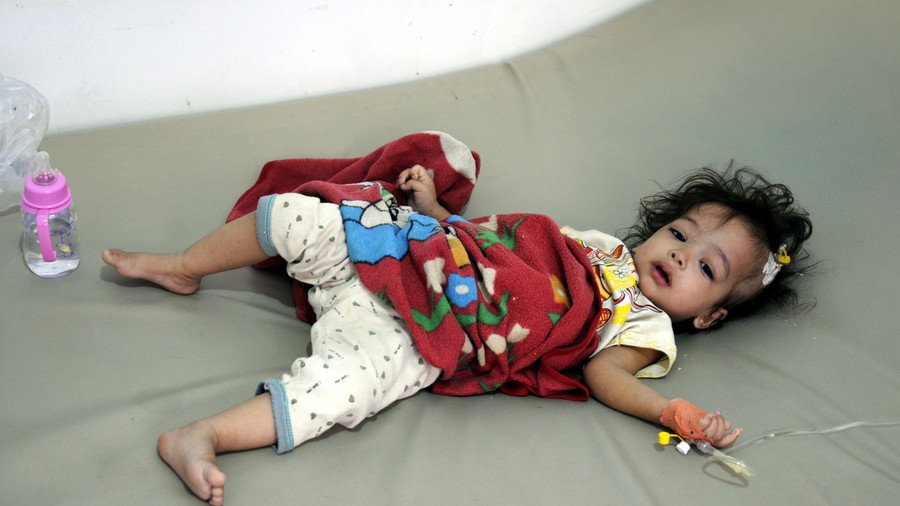 Britain should prosecute Saudi-led coalition states for committing 'war crimes' in Yemen, human rights campaigners have said. With 130 children dying there every day, the conflict has been described as the "world's worst humanitarian disaster."
More than 10,000 have been killed and three million displaced in Yemen since 2015, and UK-based campaign group Human Rights for Yemen is now calling on Britain's Attorney General Jeremy Wright to prosecute Saudi Arabia, the United Arab Emirates and Qatar.
The Saudi-led coalition has already been condemned internationally over its attacks on civilian targets in its bombing campaign against Iranian-backed Houthi rebels.
Up to 2,000 schools have suffered damage due to the coalition's air strikes, according to evidence gathered by the Legal Centre for Rights and Development, based in Yemen's capital, Sana'a.
Pointing out that "any civilian site is considered sacred under the Geneva Conventions and its Protocols," the campaigners want Britain to intervene and to hold the alleged criminals to account under UK statute.
Kim Sharif, Director of Human Rights for Yemen, said: "The UK has a moral and legal duty to uphold the rule of law. The government has willingly ignored the atrocities that have been inflicted on the people of Yemen, and has been totally complicit in the destruction.
"We believe that Saudi forces are committing war crimes, and violating the Geneva Convention. We are calling for this to be investigated immediately, and are confident that there is jurisdiction to bring such proceedings in UK courts," Mr Sharif concluded.
The UK itself has been condemned for failing to stop its arm sales to the Saudi kingdom, despite overwhelming evidence that the weapons are being used in violation of international humanitarian law.
According to Campaign Against Arms Trade (CAAT), the UK approved arms sales worth £4.6 billion to Saudi Arabia in the past two years.
Amid concern over the civilian death toll in Yemen, CAAT launched a judicial review of the government's decision to carry on selling arms to Saudi Arabia. But the High Court ruled it lawful for the UK to carry on doing business with the Saudis, after evidence was seen proving the continued arms sale was "rational."
The government recently admitted, however, that it had identified up to 318 cases in Yemen since the conflict began that could amount to a violation of international law.
Under UK law, weapons should not be exported "if there is a clear risk that the items might be used in the commission of a serious violation of international law."
Speaking in the House of Commons in an emergency debate, Foreign Office Minister Alistair Burt admitted: "We have been tracking 318 incidents of potential concern since 2015, and this is used to inform the MOD's advice to the Foreign and Commonwealth Office."
A spokeswoman for the AGO told RT:
"We received an application last year. It was missing information required to consider it properly and we informed the applicants as such. We will of course consider any new requests for the Attorney General's consent to prosecute."
You can share this story on social media: