Britain 'exporting fear' to Yemeni children through arms sales to Saudi Arabia, charity warns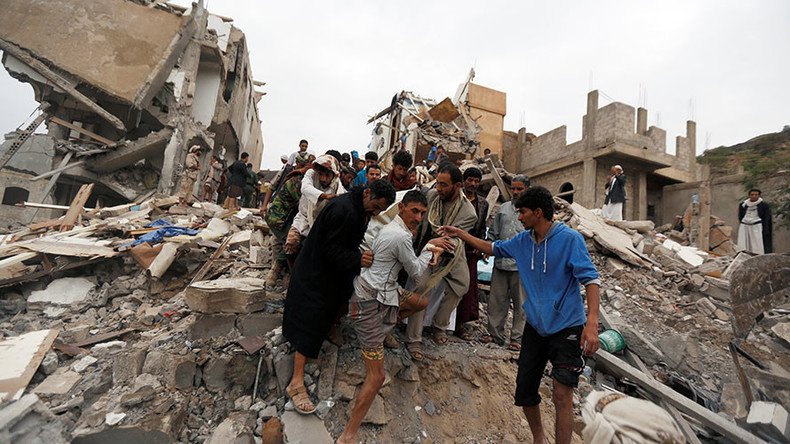 Britain is "exporting fear" to children trapped in Yemen's civil war as it continues to supply billions of pounds worth of arms to Saudi Arabia, Save the Children has warned.
The UK has earned at least £3.2 billion (US$4.24 billion) from selling missiles and equipment to the Saudi-led coalition during the ongoing war in Yemen, which escalated in March 2015 when Houthi rebels seized the capital, Sanaa.
British arms are believed to have been used in bombing schools and vital infrastructure, impeding aid access and fomenting a cholera epidemic. Some 10,000 people have died and 40,000 have been wounded during the conflict, according to UN figures.
Meanwhile, Britain continues to send humanitarian aid. In 2017, it sent £155 million to the war-torn country.
Save the Children's chief executive, Kevin Watkins, says the UK is "leading the world by providing aid to Yemen," but at the same time "providing weapons and support to countries in a conflict that is killing, maiming and starving children."
"The UK should stand tall in the world and export hope to Yemen's children, not fear," he said at the launch of the charity's report 'Next Generation Aid', which sets out how Britain's aid budget can better deliver for children.
Save the Children is calling for the Department for International Development (DfID) to be given a decision-making role on the government's export control joint unit, which approves all arms sale licenses.
The unit currently includes representatives from the Foreign Office, the Ministry of Defense and Department for Business, Energy and Industrial Strategy.
Shadow International Development Secretary Kate Osamor said Save the Children's report "sounds the alarm bells once again" on the "disjointed" cross-government approach to international development.
"[It] highlights the sheer hypocrisy of delivering aid to Yemen while British-made bombs rain down," she said, according to the Press Association.
"Labour will review the way that decisions are made on the exports of arms and we will review the cross-government approach to aid spending, making sure it delivers development outcomes for the world's many, not short-term benefits for the few."
A government spokesperson said the UK is the third largest donor to Yemen, "having committed over £155 million in aid this year."
"We are also playing a leading role in diplomatic efforts to achieve a political solution which can end the conflict and the terrible humanitarian suffering, including building support for the UN Special Envoy's proposals for peace.
"The intervention by the Saudi Arabian-led coalition came at the request of Yemen's internationally-recognized president, whose government was forced to flee following a violent takeover by the Houthi rebel group.
"Since then, rebels have launched missile attacks into Saudi Arabia and committed serious human rights violations. We remain deeply concerned about the human rights situation in Yemen and will continue to work with all parties to find a political solution to the conflict."
The spokesperson added that the UK government takes its defense responsibilities "very seriously" and "already operates one of the most robust export control regimes in the world."
"We rigorously examine every application on a case-by-case basis against the consolidated EU and national arms export licensing criteria."
You can share this story on social media: