You've gotta Brie kidding me! 'Unlimited' cheese & wine party runs out of cheese, almost sparks riot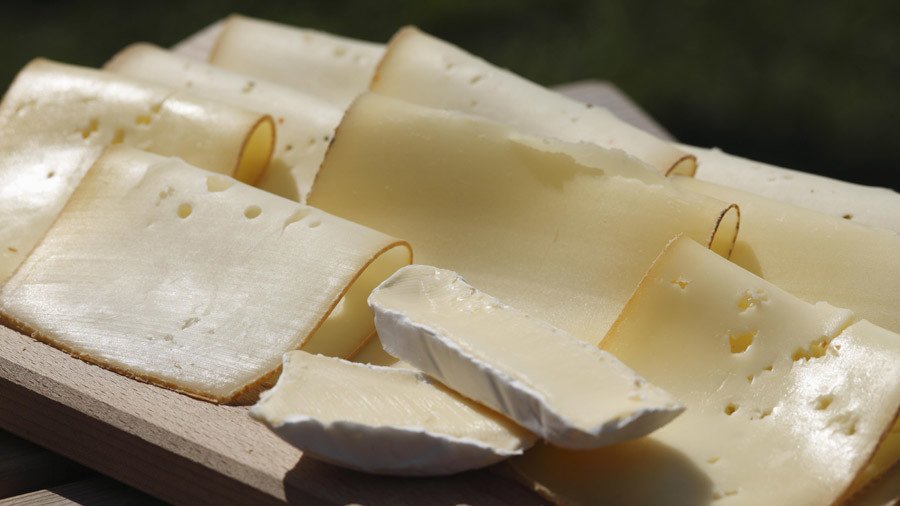 Food lovers are cheesed off after what may be the greatest con of 2017. A food festival that promised unlimited cheese and wine ran out of the former – and has since been labelled the UK's answer to the Fyre Festival.
Hundreds of eager Red Leicester lovers descended on Greenwich warehouse Studio 338 on Saturday and Sunday, forking out £30-£40 per ticket, expecting to enjoy unlimited fine wine and artisanal cheese while sitting by roaring fires.
Instead, devastated attendees were treated to limited low-quality cheese in an icy warehouse. To add insult to injury, the roaring fireplace was just a projection on a wall, as if to mock the food lovers and their freezing extremities.
Feta fans who arrived for the Saturday day session, which was supposed to start at midday, were made to line up outside in near-freezing temperatures until just before 1pm as organizers were "still setting up."
When punters were finally let in, it quickly became apparent that they were not getting what they paid for. The free mulled wine and cider was still not ready and the UK's giant 'immersive' cheese board was actually just multiple fold tables offering low quality cheese on paper plates.
Angry patrons soon began chanting "we want a refund." One woman described the event as "the worst thing" she had ever been to.
Kim Corr told RT that she left in disgust after only an hour.
"Six of us went along expecting a great [Saturday night… the place was freezing, we secured a seat in the 'cheeseeasy' [tent] but realized that the queue for mulled wine was 40 minutes [long] with one guy and one barrel, all outside.
"Collectively we spent £222 to get 6 glasses of lukewarm mulled wine and six plates of cheese."
Hannah Belcher travelled from Chelmsford to attend the Sunday afternoon session, and is demanding a full refund plus petrol and the cost of parking from event organizers.
"I was absolutely shocked at how appalling the event was," she told RT. "There were massive queues everywhere and the event completely over packed, with nowhere to sit to eat even. People were having to sit on a dirty dancefloor.
"There was no melted cheese or Camembert as promised, the mice that were supposed to be handing out cheese were in tacky Tom and Jerry cat outfits, the 'giant cheese board' was just a floor with an inflatable cheese on it, the warm cosy fire was just a screen, and the cheesecake that was also promised was being charged at almost £4 a slice.
"We spent 30 minutes in the venue and most of that was just queuing. Whoever organized and managed this event should be embarrassed."
An expert in contract law told RT the event organizers may have violated their own contract with consumers by offering things like cheesecake in the cost of the ticket, and then attempting to charge per slice.
Daniel Lynch, who was hired by organizers to work at the event, actually walked off the job disgusted by what he was witnessing. Lynch told RT he thought "there would be a riot."
"I decided to wander around as much as possible behind the scenes as to not get shouted at," Lynch said.
"What I saw upstairs in the cheese prep area was horrible. Random people were cutting cheese - (some with gloves, some without - and putting it on boards as well as eating it as they went along. Food was stored on the floor and there were no food standards in place at all - and this was being served up to guests."
Even the DJ group tasked with playing 'cheesy tunes' on the day have distanced themselves from the dairy disaster.
After a day of complaints, event organizers posted a lengthy statement on their Facebook page to rebuff the flood of complaints that had been made against them. Magic Dance, the company that ran the event, refused to apologize for the great cheese swindle of 2017, maintaining they had delivered on what was promised.
"Guys, if we felt that we had not provided any of the things included in your entry price then we'd be the first to hold our hands up and apologize but this is simply not the case!" organizers said in their statement.
"The cheeses were sourced from some of the UK and Europe's best specialty cheese makers, dairies and farms… the Sainsbury's truck some people saw arriving at the start of the first session was delivering extra Jacob's crackers.
"We are truly passionate about cheese and have put months of planning and huge investment into this project – we are obviously very upset seeing any negative reactions at all… but to make the statement [sic] some of you are in messages and social media is just totally unfair and false!" they added.
"If we had run out of cheese, or limited anything or just stuck some tables in a room then fair enough… but that is absolutely not the case and there are loads and loads of ways we can prove this to anyone who's interested to know more!"
Despite their offer to "prove this to anyone who is interested," event organizers have ignored RT's requests for comment.
But there's a silver lining: tickets are still available for the next Giant Cheeseboard Event, run by the same organizers that brought us the disaster from the weekend, on December 23… if you dare.
- Rachel Lang, RT UK.
You can share this story on social media: