Theresa May uses deceptive stats to claim homelessness has fallen under Tories (VIDEO)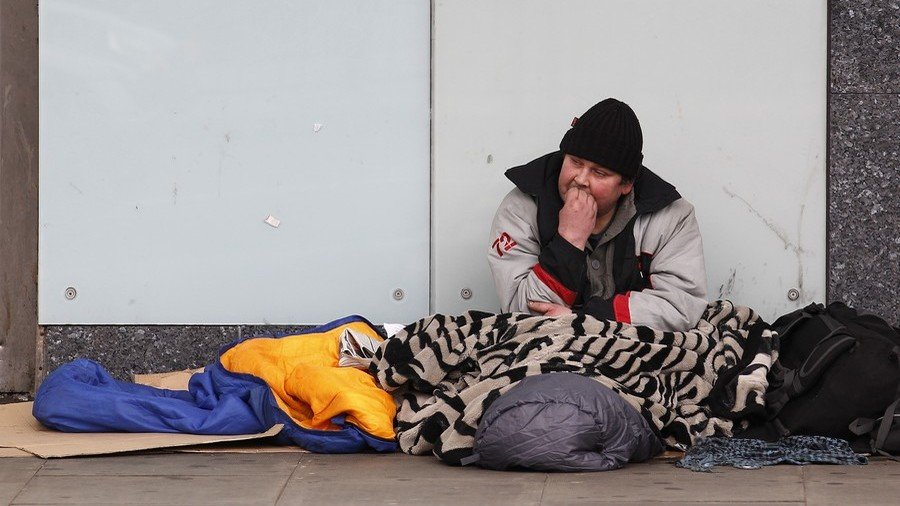 Prime Minister Theresa May has rattled off misleading statistics on homelessness in Britain despite the Tories being criticized for using the figures in the past. She claimed that "statutory homelessness" is down by 50 percent under her party's rule.
During Prime Minister's Questions (PMQs) on Wednesday, Labour leader Jeremy Corbyn called the rate of children and families facing homelessness a "national disgrace" as he challenged the PM to get more people into stable homes. He said one in 100 children in Britain are homeless at any one time and 128,000 will spend Christmas in temporary accommodation or on the streets.
Others are not living in homes maintained to a decent standard, with many living in damp and cold conditions, Corbyn added. He also noted that 40 percent of homes sold under 'Right to Buy' are now being rented out privately.
Corbyn said that homelessness and rough sleeping have increased every year since the Tories came to power in 2010. "When it comes to housing, this government has been an absolute disgrace," he said.
May shot back, pointing out that house-building and social housing had fallen under the last Labour administration, adding: "Labour would produce failure for this country once again." She said the government was putting a "clear focus on housing" and measures had been taken to help councils rehouse families in need. May went on to say "statutory homelessness" peaked under Labour and is down 50 percent under the Tories.
However, use of this figure is misleading on two fronts. Firstly, "statutory homelessness" did peak under Labour, but its fall was under Labour too, before the Tories took power. Despite May's claim, the number of statutorily homeless has actually risen - from 10,100 in April - June 2010, to 14,400 in the same period of 2017. It is down five percent in the last year, but up overall since David Cameron took power, official figures show.
Brazen (mis)use of statistics by Theresa May. She said: "Statutory homelessness peaked under the Labour government and is down by over 50% since then."Yeah - down under Labour. Creeping up under the Tories. Yes it's down this year, but it's still higher than 2010. pic.twitter.com/RPVfthKrrE

— Dan Bloom (@danbloom1) December 13, 2017
Secondly, May's 50-percent claim only applies to the specific definition of "statutory homelessness," where local authorities have defined a household as homeless within the terms of the legislation. That means they are in priority need - including families with dependent children, pregnant women and adults who are assessed as vulnerable - and not "intentionally homeless."
Rough sleeping, which is counted separately, has more than doubled to almost 4,200 across England since it began being measured in 2010. "Statutory homelessness" does not show the full scale of the problem.
Earlier in the year, the Tories were accused of "spinning the statistics" when they used the figures. The UK Statistics Authority said the use of the statistics without making clear what measure was being used was "disappointing."
You can share this story on social media: