Not-so-special relationship: Downing Street left in the dark about Trump visit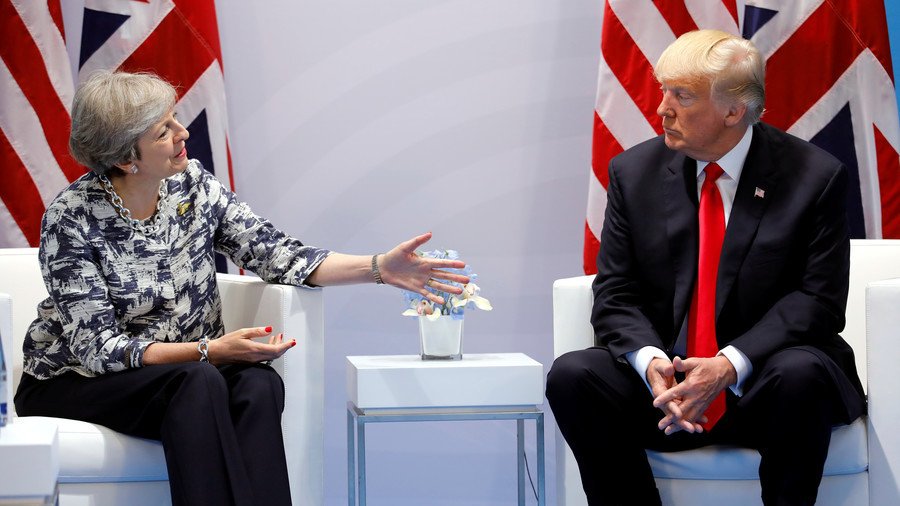 The UK-US 'special relationship' has been rocked. President Donald Trump and Prime Minister Theresa May's ties have been tested repeatedly in 2017. Now, Downing Street doesn't seem to know when (or if) the POTUS will darken its shiny black door.
After meeting the Don in Washington last January, May offered Trump a full UK state visit, scheduled for late 2017 or early 2018, despite massive public opposition. That pressure has only intensified over the past year.
Trump's trip has been dramatically downgraded to a 'working visit' for the president to open the new US embassy in London. He will not meet the Queen and will not address parliament. Sources inside Downing Street told The Times that May has no idea what Trump's itinerary includes, despite a rough agreement on a date in February.
US Ambassador to London Woody Johnson claimed that Trump and May are still enjoying a "very, very good" relationship. His comments came just a week after the pair fell out publicly over Trump's decision to retweet videos from the far-right group Britain First.
Three retweets from the @realDonaldTrump account spread messages from Britain First Deputy Leader Jayda Fransen. The PM said Trump was "wrong" to do so and the president hit back on Twitter – albeit tagging the wrong Theresa May. He said May should focus on "extremism" rather than his social media.
Delivering her own barb, May said she barely looked at her online accounts, hinting at the president's over-use of his account.
The pair were also at loggerheads over the Boeing and Bombardier court case earlier in 2017. May pleaded with Trump to intervene as Boeing accused Bombardier of being unfairly supported by the Canadian government over its C-class planes. Trump refused and the US added huge tariffs to the cost of the planes, meaning thousands of jobs in Belfast are now at risk.
If the operation is shut down, Northern Ireland's biggest employer could resort to massive redundancies, risking May's fragile agreement with her parliamentary allies in the Democratic Unionist Party (DUP).
However, the US ambassador told BBC Radio 4's Today program that there should be a good visit.
He said: "Absolutely, I think he will come… It hasn't been officially announced but I hope he does."
Britain First is planning a pro-Trump rally in February, which is expected to clash with anti-Trump marches when the president comes to the UK.
You can share this story on social media: