'Simple apology' is not enough: Insulted Erdogan on NATO 'impudence' over enemy-chart scandal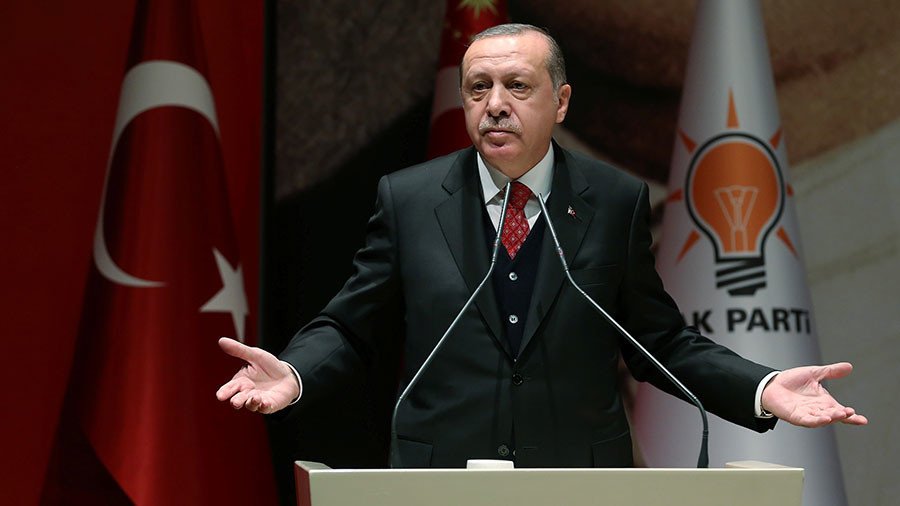 Turkish President Recep Tayyip Erdogan has rebuffed a NATO apology for what he called "impudence" during the alliance's drills in Norway, where he was depicted on an "enemies chart." The scandal led to the withdrawal of Turkish troops from the exercise.
On Friday, Ankara ordered its troops to pull out of NATO military games in Norway after the incumbent Turkish leader and Mustafa Kemal Ataturk, founder of the modern Turkish state, appeared in an "enemy" list. Following the scandal, both NATO and Norway offered their apologies for the incident, saying that the message did not reflect their views.
READ MORE: Turkey withdraws troops from Norway after Erdogan is listed as 'enemy' during NATO drills
"There can be no alliance like that," Erdogan said on Friday, adding that even the removal of those names would not change the decision. On Saturday, despite the officials' apologies and affirmations, the insulted leader remained steadfast, saying that NATO cannot easily get away with the incident.
"Yesterday, you have witnessed the impudence at NATO exercises in Norway. There are some mistakes that cannot be committed by fools but only by vile people," Erdogan said in a televised speech. He added that the incident shows "a reflection of a distorted point of view that we have observed in NATO for a while."
"This matter cannot be covered over with a simple apology," Erdogan added.
NATO has been experiencing internal conflicts among its allies. Turkey's deal with Russia on the purchase of S-400 anti-aircraft systems caused concern among members of the military bloc, including Washington. Turkey and the US have some other bones of contention besides the S-400 deal, as Ankara has repeatedly blasted Washington for its support of Kurdish forces in Syria and its reluctance to extradite exiled Turkish cleric Fethullah Gulen.
READ MORE: Germany freezes arms exports to Turkey, Ankara says it weakens anti-terrorism fight
Tensions eased a little in October, when NATO Secretary General Jens Stoltenberg said that Ankara's decision to purchase the S-400 did not harm the alliance's interests. While the final details of the deal are being settled, a top US Air Force official warned that it could affect Ankara's operation of F-35 jets, some 100 of which Turkey is planning to buy.
Turkey has also been at loggerheads with another NATO member state, Germany. In late June, Germany was forced to move its troops from Turkey's Incirlik Air Base to Jordan, as Ankara had barred German lawmakers from visiting the site, where some 270 troops participating in the US-led campaign against Islamic State (IS, formerly ISIS/ISIL) were stationed. In one of the recent schisms in the bilateral relations, Germany put on hold "all big requests" for arms exports from Turkey. The decision caused an angry reaction from Ankara, which said the decision weakens its fight against terrorism and jeopardizes European security.
You can share this story on social media: