Theresa May has a new 'optimism' about Brexit... so now is the time to seriously worry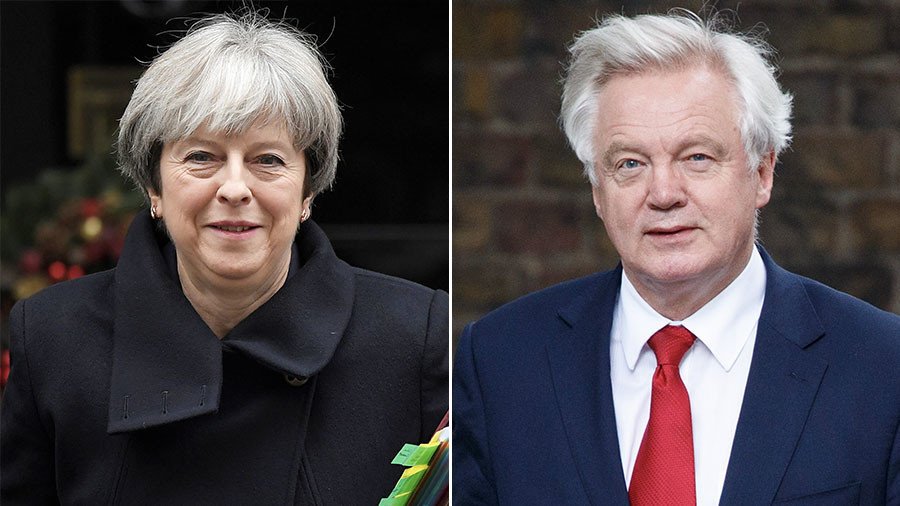 Theresa May has uttered a phrase that should strike terror into the hearts of anyone concerned about Brexit – an admission no one wants to hear from a politician. After her early-morning adventures in Brussels, the PM has "a new sense of optimism."
The reason politicians use words like 'optimism' is because they can fool people into thinking things are really starting to look up. But do you know what else looks up? Someone in a fast filling barrel of political effluence, gasping for air. Remaining optimistic is pretty much all that's left when you're in that position.
Optimism is a straw to clutch at. A leap into the dark. A forlorn hope. A prayer into a cold, unfeeling universe. The humorless grey eyes of EU technocrats show they care little for optimism.
Neville Chamberlain – now there was an optimistic British Prime Minister.
So why is May so hopeful? It's because, despite her best efforts, last week she actually appeared to have struck a deal with the EU. Well, it's a kind of deal – more of an agreement to do a deal in the event of an actual deal, which may not be legally binding anyway. And it's a cracker.
Britain has stood firm and is showing the EU that it is no longer willing to just hand over billions to the Union... by handing over £39 billion.
Britain has stood firm on its demand that control of its own borders must be returned to London, by agreeing to keep open its border with EU member Ireland (and letting EU citizens stay in the country).
Britain has stood firm and refused to let a foreign court dictate its laws, by agreeing that the European Court can continue to dictate its laws.
If Brexit optimism had a face, it would be the face of Brexit Secretary David Davis. Davis has in the past described himself as a "determined optimist," which one assumes means he's "determined" not to laugh when he says it.
And this week on LBC radio, Davis said: "What's the requirement of my job? I don't have to be very clever, I don't have to know that much, I do just have to be calm."
After hearing that, I'm seriously wondering whether Davis has misread the job description on his contract. I can imagine that some voters might actually want someone just a bit clever, with just a smidgen of knowledge to negotiate the most complex political deal in the history of humans.
If calmness is all that's needed, can London not just send a life-size cardboard cutout of Davis to Brussels and save a bit of cash on his ministerial salary? That money may come in useful if the age old British tactic of keeping calm and carrying on doesn't prove quite enough to break the will of the merciless negotiators Barnier, Juncker et al.
Especially now Davis appears to have calmly and determinedly suggested in public this initial 'phase one' agreement made with the EU is not actually legally binding, calling it more a "statement of intent." Well last night I stated my intention to wake up at 6am, go to the gym and eat a bowl of berries for breakfast. But here I am having slept through my alarm, sitting in a shirt covered in crumbs and bacon fat.
So it's not really surprising that the idea of 'intent' rather than a legally binding deal was news to the European Parliament's chief Brexit negotiator. Guy Verhofstadt called Davis's comments an "own goal" and "unacceptable."
Remarks by David Davis that Phase one deal last week not binding were unhelpful & undermines trust. EP text will now reflect this & insist agreement translated into legal text ASAP #Brexit

— Guy Verhofstadt (@guyverhofstadt) December 12, 2017
Pleasure, as ever, to speak to my friend @guyverhofstadt - we both agreed on the importance of the Joint Report. Let's work together to get it converted into legal text as soon as possible. 1/2

— David Davis (@DavidDavisMP) December 12, 2017
Not really very clever from Britain's Brexit Secretary… but then he did warn us. Yesterday he backtracked by saying the deal was actually "more than legally enforceable." Rooms of analysts are still trying to determine the meaning of that one.
Still, with calm determined optimism as a guide, how hard can it really be to now get a trade deal done with 27 nations, some of which believe barely a word you say?
I'm optimistic… (gurgle).
You can share this story on social media: