Christmas cancelled for dying, disabled children after Britain's Santa flight shutdown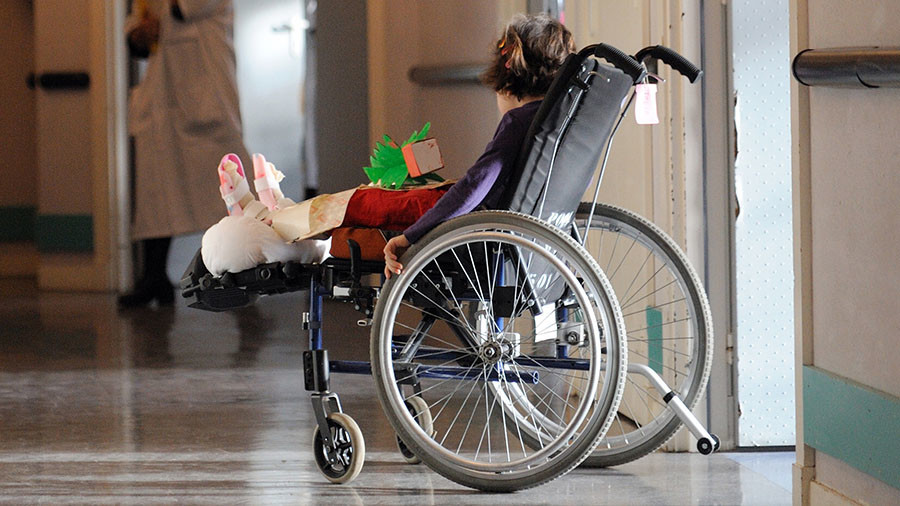 Forty terminally ill and disabled children had their dream trip to see Santa shattered when an airline cancelled. Jet2 said there was an "inadequate level of detail" as to how much medical assistance they would need.
Parents said the children have been left heartbroken after Jet2 scrapped the charity flight with only a few days notice.
The annual Santa Flight was set to take off from Leeds Bradford Airport, taking 40 children, their parents, and carers on a joyride on December 13, with Santa making an appearance.
Oliver Venner, who is 18-month-old and who has cystic fibrosis, was one of the ill children set to fly with Santa Wednesday. His mum, Laura, said it is just "shocking how they've let families down."
"Their dreams are shattered after the news was broken about it being cancelled," the Leeds mum said. "We don't know how long we have got with Oliver so having a magical Christmas for him and us as a family making memories is very important to us.
"Time is very precious to us now," she told the Sun.
Laura and her husband David have twins, both suffering from the genetic condition. Laura said daily life caring for the twins "is stressful, hard work, tiring and exhausting."
"Oliver requires constant 24/7 round-the-clock care, with feeds, intense physio and constant medication to keep him well," she said.
"He cannot sit unaided, he can't walk and, like his twin sister Maisie, he can't crawl or talk. He's always monitored closely and this is why we rely on respite for a bit of a break so we can enjoy time as a family together rather than just feeling like we are more like his carers than his parents," she said.
"He's such a warrior, he's shown us how far he's come fighting each day to be here. We didn't think we would ever be able to bring him home from hospital."
Oliver's dad, David, said the cancellation of his son's special Santa ride is just about "as low as you can get."
"We are angry and disappointed," he said. "To have to explain to the kids that it's been cancelled, they don't understand that. They can't understand why Santa doesn't want to meet them."
David said the news had not only affected Oliver, but had devastated his brothers and sisters as well.
My daughter, Abbie [Venner], who's four, was in hysterics last night," he said. "She and my two-year-old Thomas were getting quite upset. When we saw her face, she was heartbroken. We had to explain that the company wouldn't let Santa use the plane but she doesn't understand," he told the Daily Mail.
"Many of those children are terminally ill. For some of them this could be their last chance to do this."
The 40 children and their families, all from Martin House Children's Hospice have been turned away with no plans for an alternate flight. For those terminally ill children who may not make it to next December, the cancellation could spell a ruined final Christmas.
Jet2 took over the Santa flight and offered Martin House seats on the plane for some of their patients and families after the previous organiser, Monarch Airlines, went into administration, according to the Daily Mail.
Chief executive of Martin House, Martin Warhurst, said everyone at the hospice is "incredibly disappointed that the Search for Santa flight could not go ahead."
"We were offered the opportunity for some of our families to take places on the flight, however we were advised last week that the flight could not take place," he said. "Once we were informed by the airport that the flight would not go ahead, we contacted our families as quickly as possible to let them know.
"I know that this has been very disappointing for some families and I offer my sincere apologies for the distress that this may have caused," he added. "Christmas is an important time at Martin House and our focus is always on providing opportunities for families to celebrate together and create special memories."
The flight had been scheduled to take off from Leeds Bradford Airport next Wednesday. When the Santa flight was cancelled, the airport alerted customers to an 'unexpected scheduling change.' The airport have since apologized.
"Leeds Bradford Airport recognizes that it was incorrect to cite 'unexpected scheduling change' as the reason for the Santa Flight being cancelled," a Leeds Bradford Airport spokesman said. "The airport apologies for any confusion and upset caused. We look forward to working with Jet2.com to look at operating a Santa Flight next year."
Jet2 have blamed an "inadequate level of detail" as the reason behind their decision to ditch the Christmas trip.
"We can confirm that we were recently approached about the possibility of operating a Santa Flight at the request of Leeds Bradford Airport, following the collapse of another airline who previously operated these flights," a Jet2 spokesman said.
"Despite our best efforts to operate this flight at very late notice, we were provided with an inadequate level of detail required to operate a safe and enjoyable flight, such as special assistance and medical requirements, or passenger numbers."
Martin House have disputed Jet2's claim of inadequate information, stating that the flight had been cancelled before they had the opportunity to return the paperwork.
"We received the offer to take part in the flight on November 22 by Leeds Bradford Airport on behalf of themselves and Jet2," a Martin House spokesman said.
"On November 28 we received a request via our contact at Leeds Bradford, on behalf of Jet2, for detailed information about the families who had taken up the offer, including details of the medical needs of our poorly children. This information was collated by staff here on November 28, and was ready to be returned to Leeds Bradford Airport on November 29," the spokesman added.
"However, before we had the opportunity to send this over, we were informed that the flight was to be cancelled."