Emergency chemical attack drill carried out in Israel's London embassy
Published time: 11 Dec, 2017 10:20
Edited time: 12 Dec, 2017 07:35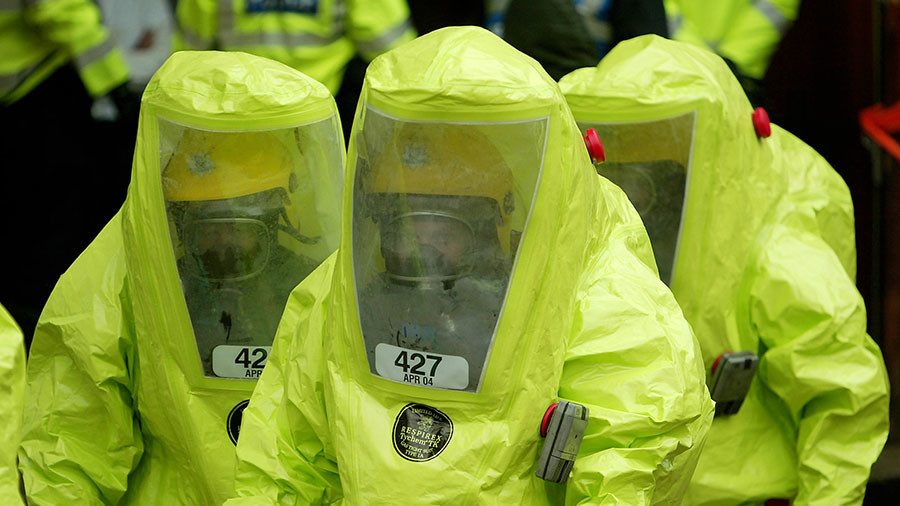 Armed police in biohazard suits swarmed the Israeli embassy in London during a training exercise for a chemical terrorism attack. Emergency services rehearsed their response to "casualties effected by a noxious substance."
The drill, which was the first of its kind to take place in a foreign embassy in the capital, saw decontamination tents erected in a section of the building that was cordoned off on Sunday. Paramedics in biohazard suits treated 50 'casualties' played by Royal Military Police personnel, who were put through decontamination showers.
It comes at a time when Israeli-owned institutions are on high alert. Officials say the drill was planned well in advance, however, and was unconnected to protests around the world in the wake of US President Donald Trump's recognition of Jerusalem as Israel's capital.
Trump's move is controversial since the city is a holy site for a number of religions. It is home to the Al-Aqsa Mosque, the third-holiest site in Islam, and is looked to as the capital of a future Palestinian state. The US president has been accused of squandering years of diplomatic peace efforts between the Israelis and Palestinians.
A spokesman for the Metropolitan Police, which coordinated Sunday's exercise, said all of the emergency services were involved, including London Fire Brigade and the London Ambulance Service. "It was an exercise involving the emergency services, and the reason they do it is to see how they can link up in such events, and if there is anything that can be improved in the future," the spokesman said, according to The Guardian.
He added that the snowy, wet weather conditions "added another dynamic" to the exercise, and said that there were no plans for further events of the kind in the near future.
was the first time we have been able to carry out a live exercise inside a foreign embassy and the experience and learning gained from this will be invaluable," Commander Adrian Usher, who heads the Met's parliamentary and diplomatic protection command, told the newspaper.
"It also tested our joint response in dealing with a hazardous substance, which is important as it will help officers and staff be better prepared should we ever face this type of challenge for real. I must stress that the exercise, which has been planned over several months, was not designed with any specific threat in mind either in terms of the hazardous material element or the location," Usher added.
The Embassy of Israel said it was happy to take part in the exercise and to work together with the Metropolitan Police and emergency services.