Sexually abused Yarl's Wood detainee condemns UK for locking up most vulnerable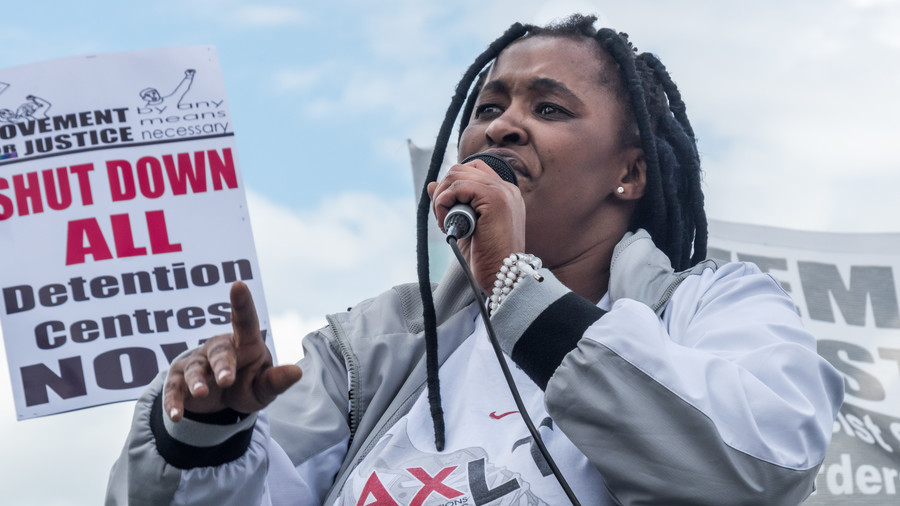 Orphaned after her mother's suicide, raped, trafficked and abused, Mabel Gawanas, dubbed the 'Queen of Yarl's Wood' after three years incarcerated in the facility, has condemned the Home Office policy of locking up asylum seekers while their cases are reviewed.
Gawanas, who is still fighting to stay in the UK with her eight-year-old daughter, has accused the UK of failing vulnerable asylum seekers. Detention, she says, is the "worst" place they could find themselves.
The 42-year-old, who alleges she was repeatedly raped as a child in Namibia, passed "from uncle to uncle," criticized the Home Office for holding people behind bars despite overwhelming evidence they are vulnerable and in need of community care.
Speaking to RT during a protest demanding the closure of Yarl's Wood and all UK detention centers on Saturday, Gawanas said she felt "empty and suicidal" while in detention. She says she was stripped of her identity and treated as "just a number."
Her comments come after a recent report by campaign group Women for Refugee Women found that victims of rape and sexual abuse are still being detained at Yarl's Wood, despite it being in breach of the UK's 'adult at risk' policy, whereby the detention of vulnerable people should only be a last resort.
She claims she was treated as a slave by traffickers, and entered a chaotic relationship, from which she had a baby girl. After a dispute with her partner, she was denied the chance to see her daughter. Arrested for arson, she was jailed in Holloway Prison for 15 months.
After being released from Holloway, Gawanas was detained at Yarl's Wood for overstaying her visa. She was locked up in the detention center for three years.
"I believe I should be given a second chance, I believe I deserve a chance I've been denied for a long time. I need my peace and need my justice.
"They don't even consider my daughter, that I am a victim of torture, of trafficking ... I just wanted a normal life, I don't ask for more."
She said the Home Office has "no compassion" as it still routinely detains vulnerable people.
The protest on Saturday, organized by campaign group Movement for Justice, followed a recent report by the HM Chief Inspector raising concerns over the amount of time people spend detained at Yarl's Wood, an immigration removal center (IRC) managed by private security giant Serco, and which was flagged in 2015 as a "place of national concerns" amid allegations of detainees suffering abuse and harassment at the hands of security guards.
The report also found that 28,000 people entered the detention estate in the past year, and that more than one in three had been there for more than 28 days. As of June 30, the longest period of time a person had been detained for was 1,514 days.
The UK is unique in Europe in having no limit to the amount of time a person can spend in an IRC. It opted out of the EU Returns Directive, by which 18 months is the very maximum a person can be in detention. By contrast, France has a limit of 45 days.
Furthermore, the Chief Inspector said the fact that two-thirds of people detained are then released back into the community without being removed from the country "raised questions about the justification for detention in the first place."
Desperate detainees on Saturday could be heard shouting "help" and "please save me" from within as protesters marched around the barbed-wired premises of the IRC calling for an end to what they say is unlawful detention.
"I know what it is like to be inside and seeing people supporting you from outside… It gives you the hope to not give up," Gawanas said.
She added she was routinely "humiliated and second-guessed" while seeking to settle her immigration status, and that detention had "changed" her.
But she is now "back to fight" and support fellow immigrants who are still struggling for freedom.
The NHS England, which is responsible for providing healthcare to detainees, has been contacted for comment, but RT is still awaiting response.
The Home Office said it does not comment on ongoing legal proceedings but it added that "companies which run immigration removal centres are contractually obliged to conduct monthly and annually health and safety inspections."
You can share this story on social media: