'Migrant sex workers welcome': UK protesters demand closure of deportee detention facility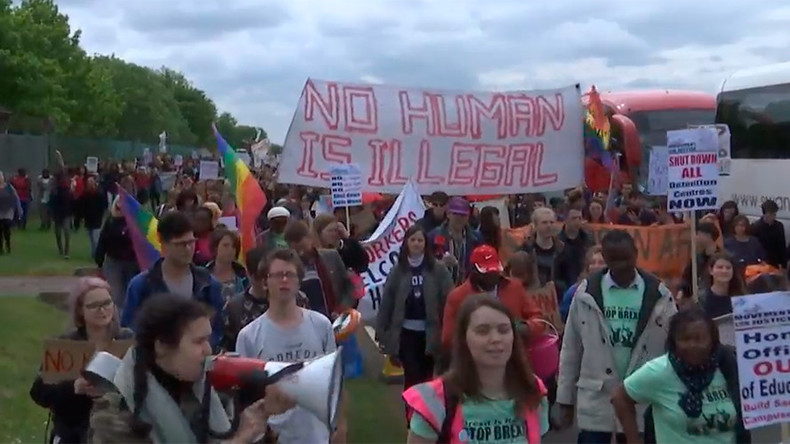 Protesters kicked at the walls of the Yarl's Wood Immigration Removal Centre, demanding its closure and the release of predominantly female residents of the 400-capacity facility in Bedfordshire.
Demonstrators chanted "Shut it down!" as they made their way towards the center, which opened in 2001, while those inside stood by the windows holding up signs saying, "Save Us."
Among the crowd, prominent signs included "No human is illegal," "Queers against borders," and "Migrant sex workers welcome here," as well as numerous banners protesting Brexit.
Most of those inside the facility have had their applications for asylum rejected, and are awaiting deportation at the contractor-run center which has been implicated in a series of abuse scandals.
"There is absolutely no need for these immigration detention centers at all. It's just our government makes vulnerable people like immigrants and asylum seekers a scapegoat for the problems in this country that are caused by the greed of their mates – the one percent," said Simon Hales, a member of the Green Party.
The Greens scheduled the demonstration alongside the launch of their manifesto, which urged the end to migrant detention, and the decriminalization of sex work, both issues related to Yarl's Wood.
"Women who are coming to the UK seeking refuge are being detained in appalling conditions in centers like Yarl's Wood, often for years with no end to their incarceration in sight," said deputy Green leader Amelia Womack. "We can be so much better than this, a confident and caring country that welcomes people in need instead of closing our borders, building walls and locking up vulnerable people who need help."
According to the Migration Observatory, 28,900 migrants entered Britain's 11 immigration centers last year. Net migration into the UK totaled more than 650,000 in the 12 month preceding June 2016, the latest official statistics show. And while irregular migration is harder to tally, the number of migrants without visas resident in Britain is thought to run into hundreds of thousands.
You can share this story on social media: