From Nazi-themed stag-dos to sordid affairs… here are 7 Tory MPs who got the boot
Published time: 8 Nov, 2017 17:40
Edited time: 9 Nov, 2017 11:32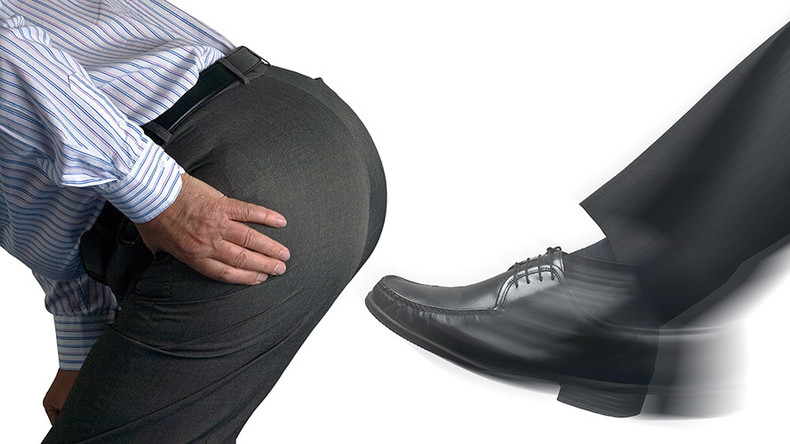 Taxpayer-funded duck houses, Nazi-themed stag-dos, affairs involving Russian spies – you name it, a Tory's been sacked for it. As Priti Patel awaits her fate for secretly meeting Israeli politicians, here's a very small selection of Tory downfalls.
Aidan Burley
MP for Cannock Chase Aidan Burley was forced to stand down for organizing a Nazi-themed stag-do (or bachelor party) at a posh ski resort in the French Alps. Groom-to-be Mark Fournier was fined £1,250 by a French court for wearing an SS uniform and insignia which had been supplied by the MP: Burley was the best man.
Groomsmen allegedly chanted offensive Nazi slogans in a crowded restaurant, including 'Hitler, Hitler, Hitler,' and toasted the Third Reich.One of the party allegedly taunted a waiter simply for being French.
Burley was sacked as a ministerial aide when details of the episode first emerged in 2011. When a 2014 report commissioned by the party found Burley acted in a "stupid and offensive way" by buying a Nazi uniform, Burley stood down from parliament altogether.
David 'from toe job to no job' Mellor
National Heritage Secretary David Mellor was forced to resign in 1992 following his affair with Antonia de Sancha. "Minister of Fun" Mellor – who at the time was 43 and had been married for 18 years – had been conducting an affair with the 31-year-old actress.
The Sun paid de Sancha for her kiss-and-tell story, wherein she claimed Mellor enjoyed spanking and toe sucking, and that they would make love while he was dressed in a Chelsea FC shirt. She later admitted to having stretched the truth.
Although then-Prime Minister John Major stood by Mellor through this particular episode, further scandals – including the revelation he had accepted a holiday gift from a woman connected with the Palestine Liberation Organization (PLO) – forced him to stand down.
Following embarrassing scandals like Mellor's, Major used the 1993 Conservative Party Conference to launch his 'Back to Basics' campaign, intended as a nostalgic appeal to traditional values.
It spectacularly backfired, however, when a succession of Tory MPs were caught up in scandals. Like the time Transport Minister Steven Norris was accused of having five mistresses over 25 years, or when MP Michael Brown resigned following allegations of an affair with a 20-year-old male student (the homosexual age of consent, now 18, was 21 at the time), or when MP Stephen Milligan died of auto-erotic asphyxiation.
Mellor's legacy lives on through a thinly-veiled Little Britain character, as well as Viz comic's Baxter Basics MP whose antics continue to this day.
READ MORE: RT's brief guide to why some are predicting UK govt is about to collapse
John Profumo's Cold War scandal of sex and espionage
John Profumo, who was secretary of state for war, resigned (or was pushed out) in 1963 after admitting he had lied to the House of Commons about his relationship with a 19-year-old model and showgirl, Christine Keeler.
What made the affair particularly salacious is that Keeler was allegedly also having an affair with a Russian spy. This was, of course, at the height of the Cold War.
The affair helped to bring down the Conservative government of Harold Macmillan and is seen as the "first public humiliation of a minister for a sex scandal."
READ MORE: World's 10 biggest political sex scandals
Viggers and an island fit for ducks
Tory MP Sir Peter Viggers was forced to resign in 2009 over an outrageous expenses claim for a £1,645 "floating duck island" for his pond. Other expenses included £30,000 towards gardening at his home, including £500-worth of manure. Can you believe this s***t?
He described the decision to charge the taxpayer for the duck house as a "ridiculous and grave error of judgment." The ducks had never liked the feature and it was no longer being used, he added.
Liam Fox and his blurred interests
Liam Fox resigned as Secretary of State for Defence in 2011 after breaking the ministerial code by letting best man and former flatmate Adam Werritty into official meetings. It emerged that Werritty, a lobbyist, met Fox on 18 foreign trips despite having no official role.
Fox admitted the distinction between his personal interest and government activities had become "blurred."
Fox is now International Trade Secretary.
Boris 'blundering' Johnson
The original comeback kid! Boris Johnson was sacked from the Tory frontbench in 2004 over lurid claims about his love life. His fate was sealed by the mother of his alleged mistress, Petronella Wyatt, who said her daughter had become pregnant by him and had an abortion.
Johnson, married with four children, categorically denied the allegations as an "inverted pyramid of piffle." However Tory leader Michael Howard relieved the then-arts spokesman and party vice-chairman of his responsibilities.
Blundering Boris is again a prime candidate for the sack. Last week, the Foreign Secretary made incorrect comments in Parliament which may land British mother Nazanin Zaghari-Ratcliffe five extra years in an Iranian jail.
It's worth nothing he was also fired from his job as a journalist at the Times for making up quotes. On top of several car-crash interviews and a list of other gaffes as long as your arm, the question has to be: How does this guy keep coming back?
Michael Fallon and the Westminster sex scandal
Former Defence Secretary Michael Fallon was the first minister to resign from May's government as a result of the growing sexual harassment scandal at Westminster. He claimed his behavior in the past may have "fallen short," admitting to inappropriately touching a female journalist.
Since then, it emerged he was forced to quit after Cabinet colleague Andrea Leadsom accused him of making lewd sexual remarks. When Leadsom complained of cold hands, he reportedly told her: "I know where you can put them to warm them up." It has also been alleged that after a lunch near Westminster he made a lunge at a young female journalist and tried to kiss her on the lips.