RT looks at far-right groups operating in Britain amid warnings of increased activity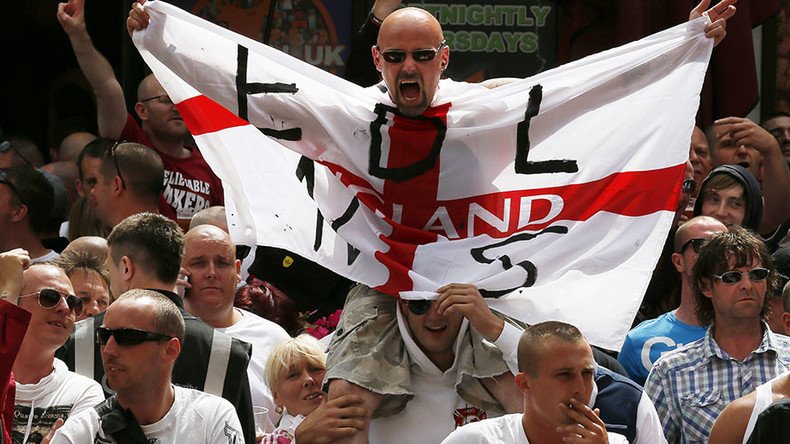 A number of serving members of the British Army were arrested last week over links to terrorism as alleged members of the banned far-right National Action party. For some time now, authorities have been warning that the far-right is becoming more active.
The warning comes amid reports that just under a third of people monitored by the government's counter-terrorism strategy Prevent in the year since the Brexit vote believed in far-right ideologies and were vulnerable to radicalization. That is up from 25 percent in 2015-16.
Here are some of the key far-right groups we know about.
National Action
National Action was the first far-right extremist group to be banned in the UK since World War II after it was found to be "concerned with terrorism.
The decision to proscribe the neo-Nazi group was made by Home Secretary Amber Rudd back in December 2016 as she said, "National Action is a racist, anti-Semitic and homophobic organization which stirs up hatred, glorifies violence and promotes a vile ideology."
Britain First
The group, which was founded in 2011, has approximately 1,000 members and is spread across the whole nation.
Led by Paul Golding, who also stood in the London Mayoral elections in 2016 but won only 1.2 percent of the vote, Britain First says on its website it is "committed to the maintenance of British national sovereignty, independence and freedom."
A staunch pro-Brexit party, Britain First has set out its aim to preserve the "indigenous British people" and keep the nation free from the "meddling of foreign organisations."
Pledging to "end the politically correct preference given to ethnic minority groups," the party is also renowned for its anti-Islam policies.
In fact, while currently campaigning against what it has described as a "horrific" mosque expansion in Maidstone, the party most recently made the headlines after footage emerged of one of its adherents calling the Prophet Mohammed a "child rapist."
"Britain first" is also what the killer of Labour MP Jo Cox's allegedly shouted before he went on to stab her.
However, the party denied any involvement in the assassination, with its leader saying: "We're nothing to do with it.
"We hope that this person who carried it out is strung up by the neck on the nearest lamp post. That's the way we view justice," Golding said in a statement.
National Front
The 50-year-old, neo-fascist party is a staunch Brexit supporter and is outspokenly anti-immigration.
With members across the country, one of the party's main aims is to stop migrants arriving in the UK, claiming it is "utter madness" that they should be taking over jobs British people could do.
"Multiracialism has been a disaster for Britain - only a policy that enforces a total ban on immigration and the humane repatriation of all immigrants and their descendants to their ancestral homelands can save this country from chaos," a statement on their website reads.
The party, led by Dave MacDonald, recently made the headlines after 30 National Front supporters clashed with anti-fascist groups in Grantham in Lincolnshire, last August, leading to the arrest of two people.
READ MORE: UK police arrest 5th man on suspicion of terrorism offences & membership of neo-Nazi group
The town's Conservative MP Nick Boles condemned the party for marching in Grantham, saying the views of a "pathetic few" do not represent those of the wider community.
"This is a free country, and even idiots have a legal right to protest," he added, according to the BBC.
English Defence League
Since its foundation eight years ago, the English Defence League has progressed from a "street movement of the English working class" to spearheading the "struggle against global Islamization," according to its website.
The group, led by Tim Ablitt, which was born out of football hooliganism, nonetheless claims that it is a "human rights organization" committed to non-violence.
Back in 2013, group co-founder Tommy Robinson left the group amid concerns over the "dangers of far-right extremism."
Robinson, however, still describes himself as an "avid speaker" of the problems the rise of "extremism, Islam, [Islamic State or IS, formerly] ISIS, hate speakers and Sharia" cause for the West.
He remains a key figure for the nationalist movement in Britain and United Kingdom Independence Party (UKIP) leadership-hopeful Anne Marie Waters, who co-founded Pegida UK with Robinson, said a lot of people around the country support his ideas.
However, one of her main rivals for the leadership, deputy leader Peter Whittle, pointed out on BBC Newsnight it would be against the party's constitution, which bans individuals who have been members of far-right groups.
Waters hit back on the same program, saying: "A lot of people around the country support those sort of people."
You can share this story on social media: