'Call them terrorists': Far-right should be treated same as religious extremists, expert tells RT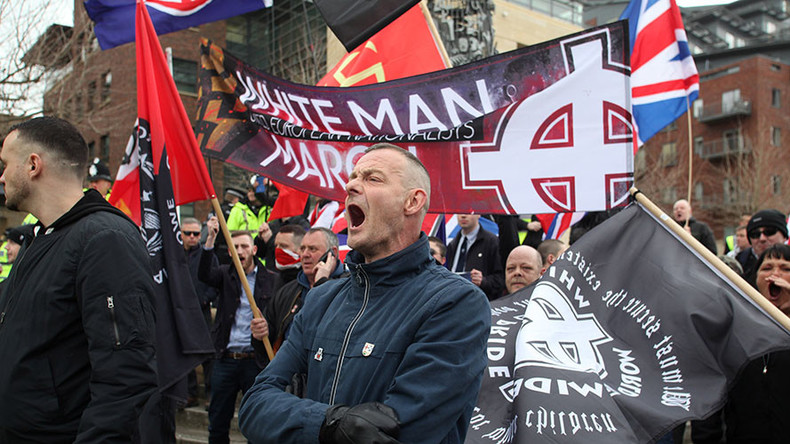 Far-right extremists should be branded "terrorists" in the same way as religious extremists, Hanif Qadir, the author of 'Preventing and Countering Extremism and Terrorist Recruitment' has told RT.
His comments follow the arrest of a number of serving British Army soldiers on suspicion of terrorism offences linked to the banned neo-Nazi group National Action.
The far-right organization, which was set up in 2014 and had branches across the UK, was proscribed in 2016 by Home Secretary Amber Rudd amid claims it was "concerned with terrorism." It was the first of the kind to be banned since World War II.
Qadir says allegations of soldiers being involved in extremist activity has put society on a "heightened alert," and he hit out at the government and mainstream media for treating far-right extremism differently from religious fundamentalism.
He claimed far-right extremist actions are not simply "hate crimes," but actual "terrorist" acts, and should therefore be treated accordingly.
"When it's a terrorist, call it a terrorist. Call the spade a spade" he told RT.
According to reports from the government's counter-extremism program, Channel, far-right radicalization accounted for a quarter of the cases it was handling last year.
In July, it was reported that hate crimes on the grounds of racial and religious beliefs have increased to an unprecedented level since the Brexit vote last year.
Police figures obtained through a Freedom of Information (FOI) request by the Independent reveal that incidents jumped by 23 percent in the 11 months following the EU referendum compared to the same period the previous year.
When asked if the rise in far-right extremism is being driven by jihadist actions, Qadir said: "They both feed off each other. The more extremism, the more terrorist attacks we're going to face, [the more] we are going to see a rise in far-right extremism."
In the same way, he argued that not calling out far-right groups as terrorists in the same way as Muslims contributes to the "sentiment and narrative that is going to feed the grievance of our Muslim communities up and down our countries.
"If these two monsters, far-right and religious-based extremists, if they continue to feed off the human resource of our country and other countries around the world, then the environment is like a tinderbox: it's only going to take a spark to ignite that fire," he warned.
You can share this story on social media: