Fixing Cameron's 'sh*t show'? Boris Johnson pledges cash to stabilize lawless Libya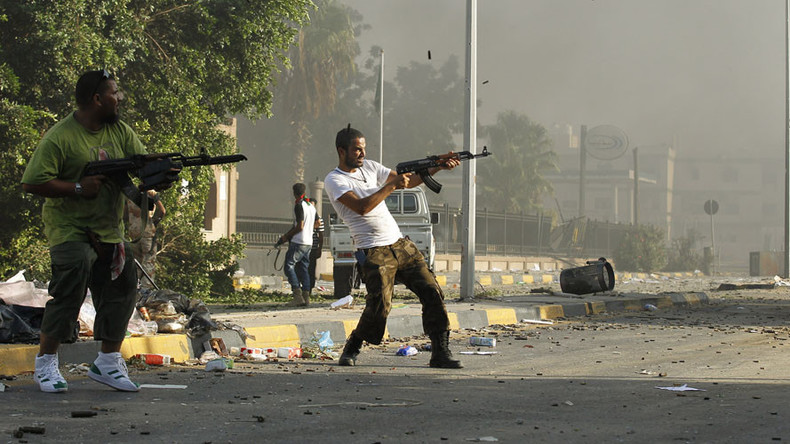 Britain has vowed to bring stability to war-torn Libya – six years after helping to topple the regime of Colonel Muammar Gaddafi and throwing the country into chaotic militia rule.
Every day, aid organizations report widespread torture, murder, terror, and corruption in the North African state, despite NATO's 'peacemaking' campaign in 2011.
Once again, purporting to know more about Libya than the Libyans do,
Britain has vowed to help out, as Foreign Secretary Boris Johnson revealed a multi-million pound aid package.
Johnson met with Libyan Prime Minister Fayyez Al-Serraj in Tripoli on Wednesday to talk about what a UK cash intervention would look like.
However, Al-Serraj has little control outside Tripoli, with massive swathes of the country under militant rule.
Speaking from Tripoli, the foreign secretary said: "Libya is the front line for many challenges which left unchecked can pose problems for us in the UK – particularly illegal migration and the threat from terrorism.
"That's why it is so important that we work with the Libyan government and our partners to help bring stability to Libya, stopping it from becoming a fertile ground for terrorists, gun runners and people traffickers in close proximity to Europe."
Johnson said Britain will provide an extra £4 million ($5.1 million) to remove improvised explosive devices (IEDs) from Libya and £1.29 million of new UK aid over the next two years.
The package also offers £2.75 million to support women's participation in peacemaking and a further £1 million to help rebuild critical infrastructure and rebuilding Libya.
Once again, British leaders appear to be ignoring the advice and intel provided by charities and NGOs in the region.
Despite repeated allegations and evidence showing the Libyan coastguard is deeply corrupt and involved in people trafficking –
Johnson met with officers to hear how UK funds support them.
Both France's Emmanuel Macron and Britain's Theresa May are pushing to help Libyans, after their nations jointly attacked Gaddafi's forces in 2011.
The NATO bombing campaign aided the uprising, directly contributing to Gaddafi's death. It was enthusiastically supported by former British PM David Cameron.
But rebel groups and Islamists quickly took over and rocked the country with terrorism, corruption, and crime. It led US President Barack Obama to refer to the unraveling security situation as Cameron's "sh*t show."
British Ambassador Peter Millett said the UK "must prevent Libya becoming a failed state on the edges of Europe."
"Since the revolution in 2011 the country has really struggled to stabilise itself – to establish an effective Government that unites the whole country," he said.
"Because of that instability terrorism has grown and that has had a direct impact on the UK."
Earlier this month, a new study, titled 'After the Fall: Views from the ground of international military intervention in post-Gadhafi Libya,' revealed Libyans are distrustful of Britain's motives in their nation.
"The covert nature of Britain's intervention has fuelled existing suspicions about ulterior motives in a climate already characterized by rumor and conspiracy," the author Alison Pargeter wrote.
"Libyans in general are deeply uneasy about the idea of foreign intervention, but also feel abandoned in the wake of the 2011 events.
"Some also feel angry that this abandonment left the country prey to interventions by regional powers."