Britain splurges on warships, subs & drones… but may cut troops to plug £30bn black hole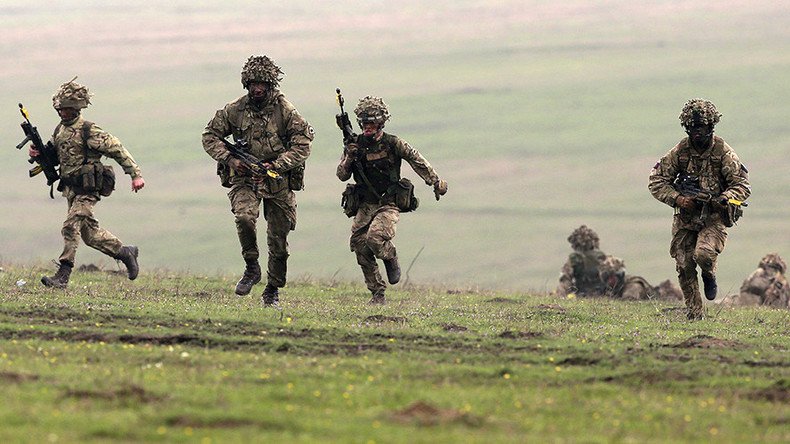 The British military could see its troop numbers slashed again to fund spending on state-of-the-art warships, submarines and unmanned drones, it has been revealed.
While Britain has focused on keeping up with global competitors, to boast of its military might, the funding gap in the defense budget has grown into a big black hole.
The generously-named "funding challenge" means the British Army has to find £20 billion (US$25.8 billion) over a decade, to close the gap between what is in the bank and what is being spent.
Defense expert Roland Sonnenberg, a senior partner at PricewaterhouseCoopers (PwC), claimed the figure is more like £30 billion - and troops may need to be cut to balance the books.
Sonnenberg claimed the next decade could be "one of the most challenging periods in a generation."
"There has always been tension between the cost of defending the UK and its interests versus the budget available," he wrote.
"This tension is now acute and must be addressed."
Sonnenberg said measures must be taken, and quickly, to prevent projects having to be scrapped.
Those measures include re-evaluating the cost of equipment.
Sonnenberg's warning comes just months after the Tories were accused of "leaving Britain defenseless."
However, within the Army, serving soldiers said government bureaucracy and spending decisions should be addressed.
An Army source told RT UK the government routinely "wastes" money.
One example was outsourcing recruitment to a private company, rather than the Army doing it in-house.
"Politicians insist on ticking boxes and wasting time and money rather than having a fully trained, fully manned army," the source said.
Over the course of six years of Tory rule, Army numbers have fallen from 102,000 to just below 80,000 – the lowest level since the 1850s. The Royal Air Force (RAF) and Royal Navy have also been slashed.
The Conservatives axed 20,000 troops in a bid to save cash in 2010 and have overseen what have been described as "embarrassing" cuts to Britain's forces.
But the latest review of spending, Sonnenberg insisted, could be an opportunity for the UK.
"The opportunity to look at numbers of service personnel may be a highly emotive and political point in itself but is worth considering," he said.
"Our armed forces are broadly described by the numbers of personnel within them, but the complexities of successful military interventions are more than just that of personnel numbers.
"The key question here is what does future combat actually look like and can we deliver this properly?"
The revelation comes as training courses for new recruits also come under scrutiny.
Not a single course has hit capacity in two years – some are taking place with fewer than a quarter of spaces filled.
Some 1,300 spaces at Catterick, North Yorkshire, were left empty on courses intended for 3,984 soldiers.
Nearly half of the 960 places for Catterick's Guards and Infantry courses between June 2015 and May this year went unfilled.
On one course, there were more than 80 spaces available when it went ahead.
On average, 54 percent of spaces at the Army Training Center were filled.
Phase One training in Pirbright Army Training Center in Surrey was attended at 70 percent capacity.
At the same center, 7,824 places were available on 83 courses.
A Ministry of Defence (MoD) spokesman said recruitment levels are "good" and that "the Army has enough people to perform the operational requirements that help keep Britain safe."
You can share this story on social media: