British Army must stop recruiting child soldiers, veteran tells RT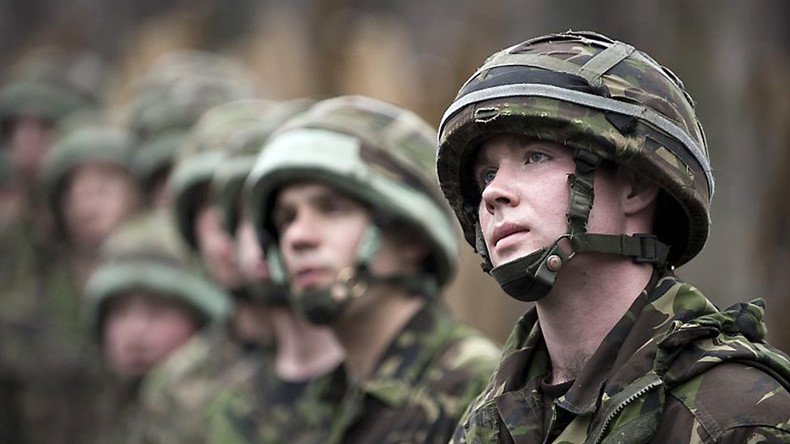 Britain should raise the military recruitment age from 16 to 18 because joining the services at such a tender age can cause irreversible psychological damage, a British Army veteran has told RT.
Wayne Sharrocks, who joined the army when he was 17, has spoken out against current military regulations, which allow recruiters to accept under 18s, who are effectively children based on international standards.
Sharrocks is calling for the recruitment age to be raised following a recent report published by Veterans for Peace (VFP) UK, which sheds light on the detrimental effects of army training on soldiers in general, and young people in particular.
Twenty-two out of every 100 British soldiers are under the age of 18. However, they are exempt from combat operations until they reach adulthood.
The 72-page report, 'The First Ambush? Effects of army training and employment,' says military training alone increases violent offending among recruits, with the rate of offenses rising again once they return from the front line.
The report, assembled through the testimonies of army veterans and more than 200 separate studies, also found recruits are twice as likely to drink heavily - all factors which may in turn lead to unemployment and homelessness.
Regardless of recruitment age, Sharrocks believes "military training and culture is damaging and not healthy for a person to go through." But because young people's minds are more "malleable" than those of adults, the effects of training are far worse for them.
It emerged last month that the British Army is actively trying to fill its ranks with young people from households with a £10,000 (US$13,000) annual income.
In a document for the British Army's 'This Is Belonging' campaign, seen by the Independent and Child Soldiers International, the military says it is deliberately targeting 16 to 24-year-olds from social classes known as C2DEs - denoting the three lowest ranks of society.
The VFP report says the British Army "strategically" targets such youngsters from deprived neighborhoods by presenting a "romanticized" image of the soldier.
Members of the Scottish Parliament have backed a petition calling for further research into military recruitment of youth.
There have also been calls by the Scottish National Party (SNP) Youth for a review of the policy on military recruitment age, but a motion to raise it was opposed by senior MPs in December last year.
Sharrocks, who twice served in Afghanistan and left the army after being severely injured by an improvised explosive device (IED), said more information should be made available to young people so they know what they are signing up for.
Jay Sutherland, a Scottish 16-year-old student who has founded a campaign group against "militarism" in schools, said advertisements are "glossed over, with the military not even showing important regulations such as when you sign up you are locked in until 18 and the fact that younger recruits are twice as likely to be killed in Afghanistan than older recruits."
An MoD spokesperson told RT it rejects claims it is targeting youth only, but said it is "proud" of offering young people in the Armed Forces opportunities that "aren't always available elsewhere, from basic literacy education and support for postgraduate degrees, to high-quality accredited training and unique employment prospects."
The spokesperson added that the Armed Forces allows for everyone, regardless of their background, the opportunity to reach their full potential, before adding it is encouraging young people to "aim higher" while "teaching them valuable skills".
Dehumanizing training
Sharrocks claims military training requires soldiers to "follow orders without questioning them," so that their "natural aversion" to killing is also "altered."
The report itself reads: "To ensure that recruits will follow all orders and kill their opponents in war, army training indoctrinates unconditional obedience, stimulates aggression and antagonism, overpowers a healthy person's inhibition to killing, and dehumanizes the opponent in the recruit's imagination."
Such practices can lead to long-lasting psychological issues such as post-traumatic stress disorder (PTSD), which can lead to suicide.
VFP UK describes the case of Dan, who joined the army at 18 and developed PTSD after training and service in Iraq.
When he returned to Britain, he served time in a military prison for assaulting a warrant officer.
"After the conviction the army wouldn't support me, my mental health deteriorated and I was left feeling isolated and alone.
"I resorted to alcohol abuse and became homeless for a year, and I have suffered with chronic PTSD.
"I really believe that underlying all my problems was the effect of the training I was put through when I joined the army."
Sharrocks accused the army of turning its back on soldiers, who are "pushed aside" once they are deemed no longer "useful."
Because they have been in the army for so many years, Sharrocks says some veterans lack fundamental qualifications to get a decent job in civilian life, as they have the same skill-set of a 16-year-old who has "just left school."
Many find themselves in manual, low-skill factory jobs.
Rather than leaving charities to pick up the pieces, Sharrocks appealed for more to be done to smooth the transition from soldiering to civilian life.
Writing for the ForcesWatch website, Douglas Beattie, a member of VFP UK, said soldiers are dehumanized right from the start, regardless of their age.
"This [process] begins with isolation – for the first few weeks trainees, heads shaved and in uniform, have no right to see family or friends; they are not allowed to leave base and cannot terminate their contract."
He also said soldiers become targets of "beastings" - humiliating treatment involving both verbal and physical violence, aimed at the individual's utter debasement.
You can share this story on social media: