'Dangerous to be British,' warns freed Al-Qaeda hostage who converted to Islam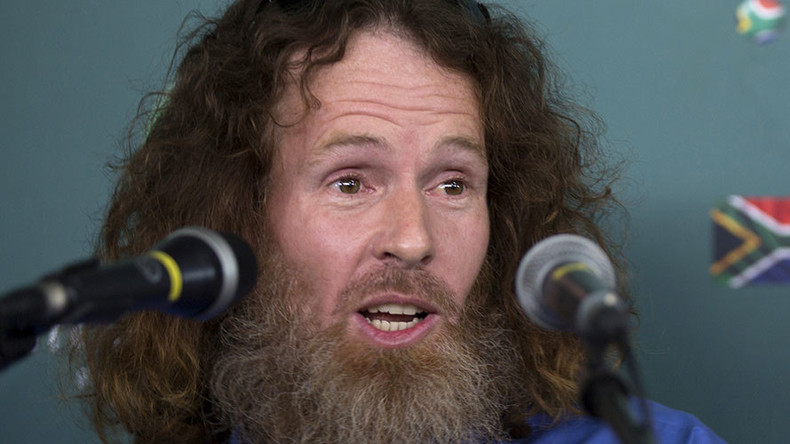 A tourist held hostage by Al-Qaeda in Mali for nearly six years has warned it is "dangerous to be British" and described how his conversion to Islam saved his life.
Speaking 10 days after his release, Stephen McGown, a South African with British citizenship, said he did not believe his captors knew his nationality and thinks it would have been "first prize" had they known he was from the UK.
McGown was abducted with Swedish citizen Johan Gustafsso and Dutchman Sjaak Rijke in Timbuktu, northern Mali, by Islamist extremists in 2011. He had been traveling across the Sahara on a motorbike.
In his first appearance before the media since his release, McGown, still sporting long hair and a beard from his years in captivity, said his captors did not know his nationality when they caught him.
"They obviously would have really preferred me to have been British. This would have been first prize.
"And it took a long time for the British status to fall away. I think my family were pushing for this, and I was pushing for this. Because it's dangerous to be British, I think."
He believes he was kidnapped "because I just wasn't a Muslim."
McGown recalled he was sometimes held in handcuffs and chains at night with two other hostages, and built a simple hut of grass and sticks to survive the cold desert nights when he often had only one blanket.
"I did my best to see the best in a bad situation. I didn't want to come out an angry person and be a bigger burden on my family."
While in captivity, he converted from Catholicism to Islam, but insists he was not under duress to do so. He added that he was better treated by his captors after converting.
"Before the desert, I was a Christian. I entered [Islam] of my own accord.
"I see a lot of good in Islam. It has opened my eyes. It's taken me away from capitalism," he said.
Joking with reporters he added: "I'll probably keep the beard. I see all of my friends are growing them. They've become funky."
McGown said he was "in the dark" about world events over the last six years as the hostages only had a radio for a short time and no books in English.
The former captive said he had been in a car with one of his abductors when he was told he could leave. He said he had assumed the man was "joking" and was still not convinced he was free after leaving the vehicle and getting into a second car that was waiting for him. It was only later in the journey that it sank in that he was free.