2 dead, 36 hostages rescued in ongoing 'jihadist attack' at luxury resort in Mali (PHOTOS)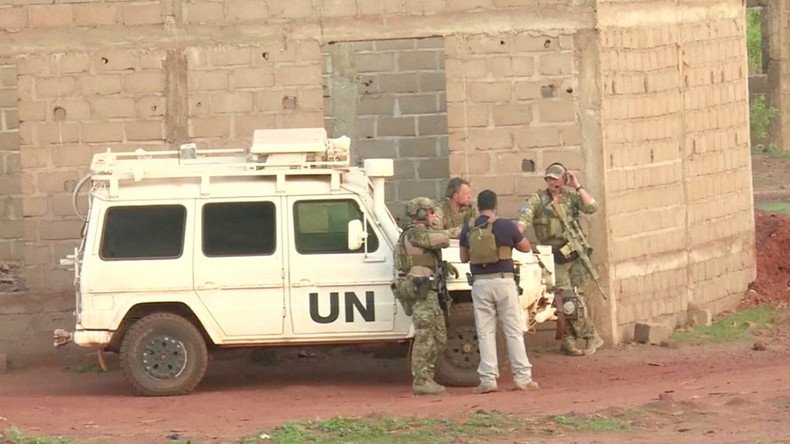 French and Malian special forces are conducting a joint military operation after suspected jihadists stormed a luxury resort in Dougourakoro, Western Mali. Mali's security minister has confirmed two fatalities so far.
"It is a jihadist attack," Security Minister Salif Traore told AFP. "Malian special forces intervened... Unfortunately for the moment there are two dead, including a Franco-Gabonese [citizen]."
"At first we thought they were armed bandits but we know how armed bandits operate, they don't hold territory, so now we think it is a terrorist attack," Traore was cited as saying by Reuters. He was speaking outside the entrance to the resort.
At least 36 hostages seized in the Bamako attack have been rescued by security forces, according to the Malian state TV cited by Reuters.
Gunmen attacked Le Campement Kangaba luxury resort in Dougourakoro, near the capital, Bamako, on Sunday afternoon. The security operation is still under way, according to the Malian Security Ministry. The resort is a popular destination for expats and western tourists alike.
Soldiers from France's Bakhane counter-terrorist force have setup a security cordon in conjunction with local authorities, blocking off the resort.
The number of attackers has been reported as up to six by Sputnik news agency, citing a military source. Two of the gunmen have reportedly been killed.
One of the attackers was injured and fled the scene, leaving "a submachine gun and six bottles of explosives," the Malian Security Ministry said in an update.
At least two people, a policeman and a civilian, have been wounded in the attack.
The US Embassy in Bamako issued a warning June 9 of a potential attack in the near future.
"The US Embassy informs US citizens of a possible increased threat of attacks against Western diplomatic missions, places of worship, and other locations in Bamako where Westerners frequent. Avoid vulnerable locations with poor security measures in place, including hotels, restaurants and churches."
Mali has been battling a jihadist insurgency in the central and northern regions of the country for years.
Jihadist groups linked to Al-Qaeda in the Maghreb (AQIM) seized control of northern Mali in 2012, taking advantage of a rebel uprising in the region. However, the insurgency was quashed by a French-led military offensive in January 2013.
In November 2015, 20 people died after gunmen took guests and staff hostage at the Radisson Blu hotel in the capital. Al-Qaeda in the Islamic Maghreb claimed responsibility for the attack.
A force of 10,000 UN peacekeeping troops, including a large contingent of French soldiers, has battled the insurgency with limited success.
You can share this story on social media: