'White zone' far-right terrorist group poster spotted in west London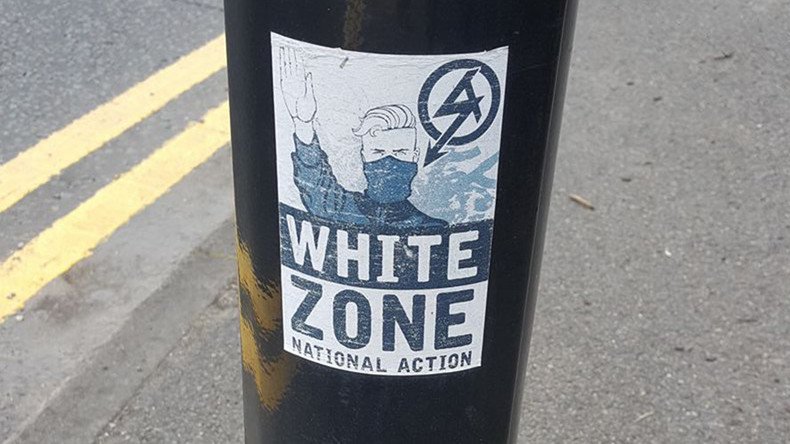 Police are investigating an offensive 'white zone' poster found stuck to a lamppost in Hounslow, west London, which features the logo of the far-right group National Action - a proscribed terrorist organization.
The poster was reported by Facebook user Gadadhara Pandit Dasa to the Feltham Community Facebook page last Thursday.
Facebook users have branded the poster "shameful."
"How very sad that people cannot be peaceful and part of a community," posted Kirsy Jane Wood.
"Doesn't matter what colour your skin is or what your religion is, just be a good person and teach your families the same."
Colin Macken posted: "This is an absolute disgrace - no way does this have any place in our town - or anyone else's town for that matter."
A spokesman for the Metropolitan Police said Hounslow authorities had received a complaint about a poster "which was displayed on a lamppost in the Hanworth area."
"Enquiries are ongoing," it added.
Anti-Semitic group National Action, which celebrated the murder of Labour MP Jo Cox by right-wing extremist Thomas Mair last year, is the first far-right organization to be proscribed as a terrorist organization in the UK following an order by Home Secretary Amber Rudd.
Rudd condemned the group's extremist ideology in December last year.
"I am clear that the safety and security of our families, communities and country comes first," said Rudd.
"So today I am taking action to proscribe the neo-Nazi group National Action.
"This will mean that being a member of, or inviting support for, this organization will be a criminal offence," she said, the Guardian reported.
"National Action is a racist, anti-Semitic and homophobic organization which stirs up hatred, glorifies violence and promotes a vile ideology, and I will not stand for it.
"It has absolutely no place in a Britain that works for everyone."
Gideon Falter, chairman of Campaign Against Antisemitism, welcomed the decision at the time, saying it would make it clear to those with far-right views that the government is watching them.
"In common with other terrorist groups, National Action radicalizes and indoctrinates the young, teaches them violence, attacks the police and the public and demands the annihilation of Jews.
"This decision by the home secretary is something we have long called for and sends a strong message that the far right is in the government's sights and will not be permitted to continue its incitement and violence."
Far-right extremism in the UK has come into focus in recent weeks after a man professing Islamophobic views mowed down a crowd of Muslims outside a mosque in Finsbury Park last month, leaving one person dead.
Following the attack, security minister Ben Wallace warned there is a growing prevalence of far-right radicalization.
"One of the biggest problems we all have is multi-media today. The speed and grooming that these people involve themselves in, whether Islamic or far-right, are something we all have to grapple together," he said, according to the Telegraph.
You can share this story on social media: