'White zone': Racist flyers linked to neo-Nazi youths pasted in another English town
Published time: 2 Dec, 2016 12:26
Edited time: 3 Dec, 2016 13:47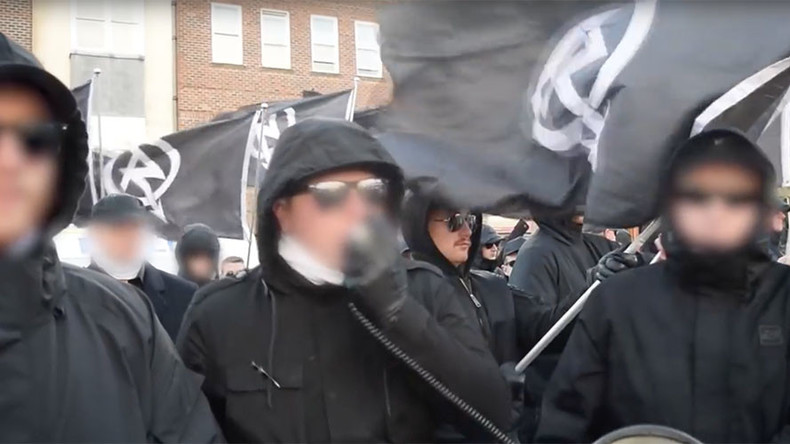 Racist posters calling for "white zones" and bearing the mark of neo-Nazi youth movement National Action have been plastered around an English town.
The flyers show a masked man posing with a Hitler salute, alongside the slogan: "White Zone National Action."
Thames Valley Police said the offensive stickers were discovered in at least two locations in the Berkshire town of Newbury. They say the incident is being treated as a racist crime and are appealing for information.
Earlier this week, Home Secretary Amber Rudd warned of a growing threat from right-wing extremists. She told a UK-Israel conference that white supremacists were becoming "increasingly sophisticated" and dangerous.
Rudd's comments come as counter-terrorism experts said that in some areas of the UK, right-wing terrorists pose as much of a threat to the country as Islamist extremists.
National Action has made headlines this year for holding a "Miss Hitler" beauty competition and running a food bank in Glasgow, Scotland for "whites only."
The extreme right-wing youth group emerged in 2013, and targets students and universities in the UK for members. It boasts of being "more radical than the BNP [British National Party]."
It is openly racist and homophobic. Its website displays anti-Semitic imagery and lengthy quotations from Adolf Hitler, and its motto is "For a Free White Britain."
It also heaps praise on mass killer Anders Breivik, who murdered 87 people in Norway in 2011, and Thomas Mair, the white nationalist terrorist who murdered Labour MP Jo Cox.
The Times reported this week that Jack Renshaw, a spokesman for National Action, may face charges with two investigations underway after he called Jews "parasites" who should be eradicated.
Renshaw also said that Adolf Hitler's only fault was to have shown mercy.
The Newbury posters were pasted up on a residential street and an underpass. Sergeant Holly Nicholls said: "Thames Valley police has received a complaint from a member of the public. The offensive nature of the 'white zone' posters, in addition to the fact they were fly-posted, led to the removal of the posters."
The flyers come after police launched a probe into a series of fake Pokemon stickers, called "Pakemon," which cropped up at London Tube stations and bus stops.
The "Pakemon" stickers depict a number of high profile Muslims, including London Mayor Sadiq Khan, who is described on his sticker as "the most dangerous Pakemon."
The stickers include the famous Pokemon slogan, "gotta catch 'em all."
It is not known who made the "Pakemon" stickers.