Hundreds come to 'Theresa May's leaving drinks' instead of expected 72,000
Some 72,000 Facebook users said they would attend a booze-up in honor of Theresa May's imaginary resignation. While merely hundreds turned up to the occasion, it did not stop organizers from declaring the party a big success.
The event planned for Friday night had gone viral on Facebook, forcing the organizers to move the location from The Red Lion pub near the Houses of Parliament to St James's Park due to capacity issues.
"It's been a difficult year for Theresa as PM. Let's all give her a happy send-off," the Facebook page for the event says.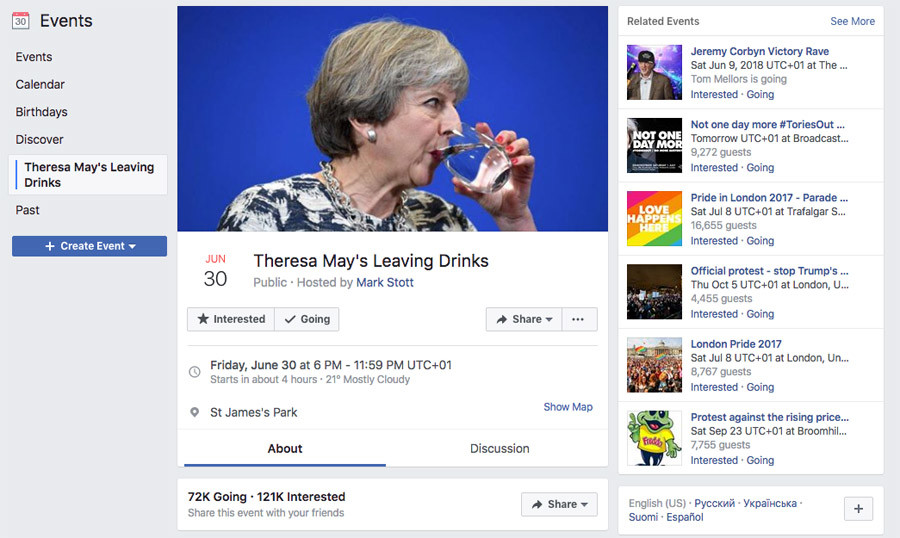 "If the page just mysteriously disappears then please arrive in the evening at the venue which was on the page at the time of disappearance."
Saad Aljabar, who said he would attend the event, wrote: "Gonna be a messy one. Boris [Johnson] has put his card behind the bar."
Referring to the "naughtiest" thing May said she had ever done - "running through fields of wheat" - one user wrote: "Not usually a pub-goer, but how can I miss this opportunity - a naughty shot of wheatgrass…"
Others were interested in the food menu. Rachel McGladdery asked: "Can you put me down for the wheat-fed fox option please?"
RT's Anastasia Churkina went to the imaginary send-off to get a taste of what promised to be a grandiose party and talk to its participants in St James's Park. As part of the event, an impromptu concert was staged with an activist, accompanying himself on guitar, singing a farewell to May.
Although the party's turnout was a far cry from the one expected, the party's organizer, Mark Stott, told RT that he could not have asked for more, taking into account how social media works in such cases.
"If anyone has a passing knowledge of social media, then they know that if you get a thousand people saying they are going… I would expect 1 percent of people to come and I think we have about 500 people here," Stott told Churkina.
READ MORE: Are Tories plotting to unseat 'damaged' Theresa May in a leadership coup?
"It became much more popular that we could have imagined," he added, noting that the party is "a good chance for people to get together and socialize."
Explaining the idea behind the party-slash-protest, Stott said that initially the Facebook page was created as "a joke response" to a similarly fake Facebook send-off planned for Labor leader Jeremy Corbyn under the same name. That page, which Stott believes had been created by supporters of the Liberal Democrats, was soon deleted, however.
Another activist told RT that low turnout does not mean the cause does not appeal to the general public.
"It's a lot of people out there who are angry, but who just probably couldn't make it," he said, adding that he considers the gathering to be "just a celebratory message showing that people in the UK actually have a voice."
"Some people voted that have never voted before and we didn't get the result we wanted. I mean, Theresa May is still PM, but at the end of the day we might celebrate the fact that she's very much weakened, she can't achieve the things she wanted to achieve."
A young woman told RT that she decided to join in the "celebrations" because May "doesn't really represent anything that I particularly believe that is good for Britain." The activist argued that the PM appears to be more focused on "protecting a particular sort of people, rich people," instead.
Some of the activists took more effort than others in making sure May receives a proper farewell.
"She deserves a nice send-off. I feel very sorry for her," an elderly woman said in a tongue-in-cheek tone, showing Churkina a heart-shaped cartoon card she made for May with the words, "So long (too long) May," written inside. On the reverse side, she wrote "Hello – (Oh) Jeremy Corbyn."
READ MORE: Theresa May will not last much longer as British PM, Citigroup warns clients
After May took a massive gamble with a general election based on the assumption she would win a huge mandate from the British people, she ended up losing her party's majority by winning just 318 seats - eight short of the 326 needed for a working majority.
May was forced to apologize to fellow Tory MPs for the running of her election campaign, and looked as if she could be pushed out as leader.
The PM appears to have no intention of standing down, however. May has now forged a coalition with the 10-seat Democratic Unionist Party (DUP) to prop up a minority government.
May remains on thin ice, though, especially in the long-term, with a potential Labour-led government poised to come into power if there is a rerun election to break the deadlock, or a Tory party coup led by Boris Johnson or another rival, as yet undeclared.
You can share this story on social media: