Finsbury attack: Interviewing EDL founder Tommy Robinson 'fuels hatred, capitalizes on tragedy'
Published time: 20 Jun, 2017 14:09
Edited time: 3 Aug, 2018 14:16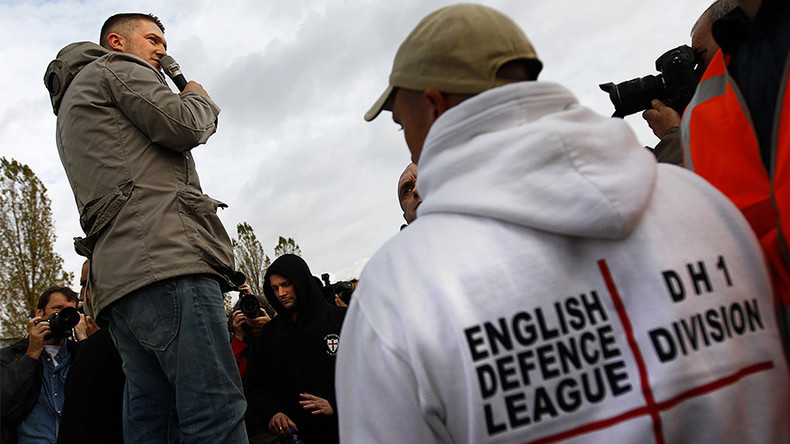 The decision to interview former English Defence League (EDL) leader Tommy Robinson on morning television in the wake of the Finsbury Park attack has led to accusations that the media is fueling right-wing extremism.
Robinson – real name Stephen Yaxley-Lennon – was invited on ITV's Good Morning Britain (GMB) only a day after a terrorist suspect drove a van into people leaving a mosque in North London.
Darren Osborne, 47, who allegedly has a history of antagonism toward Muslims, remains in custody after the attack in which one died and 11 were injured.
Robinson, who came to prominence as head of the far-right EDL, was invited on to debate the presenters on his views and the attack.
Presenter Piers Morgan quickly branded Robinson a "disgrace" and a "bigot," while Robinson flailed a copy of the Koran and said that the book was to blame.
"Islam is an idea. A bad idea. Like Scientology. There's no such word as Islamophobia. A phobia is an irrational fear. It's not irrational to fear these things," he argued.
Social media users branded Robinson a hate preacher, just as bad as the extremist Muslim imams he opposes.
While some subscribed to the idea of giving extremists a platform so they can be beaten in debate, many called for Robinson and others like him to be "no-platformed."
ARE YOU TAKING THE PISS @SkyNews. Why have you got Tommy Robinson on your Station ? He deserves NO platform, he's an instigator of racism.

— Natalie Rowe (@RealNatalieRowe) June 19, 2017
No platform is a tactic used to stop extremist agitators being allowed to spread their message.
#BritainFirst & #EDL and othe right wing groups are fuelling hatred to divide a nation and they capitilise on any tragedy

— Bilal Butt (@TeflonB25) June 19, 2017
Before the interview Robinson had tweeted that Finsbury Park mosque "has a long history of creating terrorists & radical jihadists & promoting hate & segregation."
If someone is a hate preacher, we should be restricting their access to pulpits, not giving them slots on national TV & radio.

— James O'Brien (@mrjamesob) June 20, 2017
A spokesperson for Good Morning Britain defended the decsion on Tuesday afternoon.
"Tommy Robinson was interviewed on Good Morning Britain this morning to be robustly challenged on controversial comments he made yesterday following the Finsbury Park terror attack, which were widely reported in the news," they said.