Dozens of fire brigades deployed, people feared trapped by massive inferno at London tower block
A 24-story tower block on Latimer Road, West London, has been engulfed in a horrifying blaze, with reports saying people have been trapped in flats in the upper levels.
The massive fire has engulfed the Grenfell Tower in North Kensington from the second story to the top floor, the London Fire Brigade tweeted. It added that at least 40 fire engines and 200 firefighters have been battling the blaze.
The fire, which broke out at around 1am, is believed to have started on the fourth floor, reportedly due to a faulty refrigerator, RT UK's correspondent Eisa Ali reports from the scene.
The building has a history of fire safety violations and residents have been complaining about improper and outdated safety standards as recently as last year, Ali said.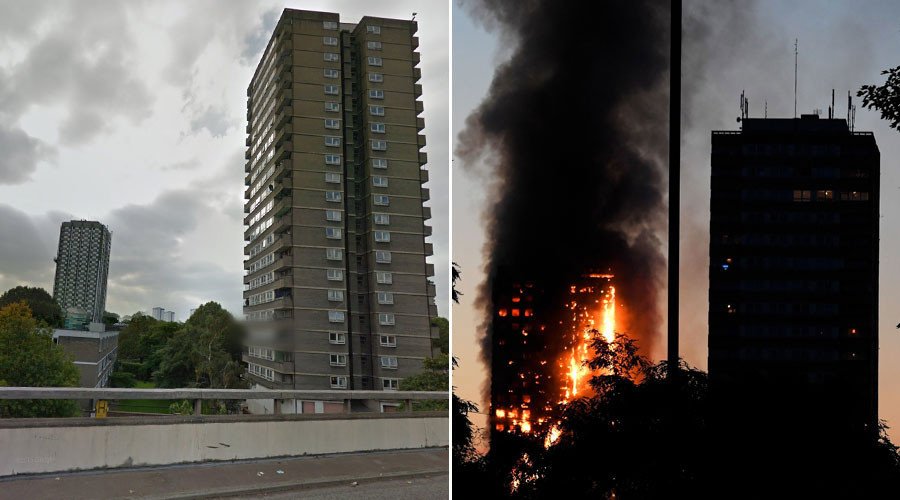 Posting an update via Skype at 5am London time, Ali reported that people were still visibly trapped on some of the floors. A video uploaded by RT's Ruptly video agency clearly shows a man opening a window near a scorched and burning side of the building on one of the upper floors.
A sizeable number of the block's residents are Muslim, and many might have been out of the building as it is during the holy month of Ramadan, Ali suggested. However, many others were still reportedly inside when the fire started, he added.
Meanwhile, eyewitness accounts have been pouring in, with reports claiming women and children were among those trapped on the burning floors.
London's Mayor Sadiq Khan has declared the fire a "major incident."
No casualties have been yet officially been confirmed amid the mass evacuation, but alarming eyewitness reports of people caught in the blaze have been quoted in reports from the scene and on social media.
George Clarke, TV host of Amazing Spaces, told Radio 5 Live that even though he lives some 100 meters away, "I'm getting covered in ash, that's how bad it is," according to the Guardian.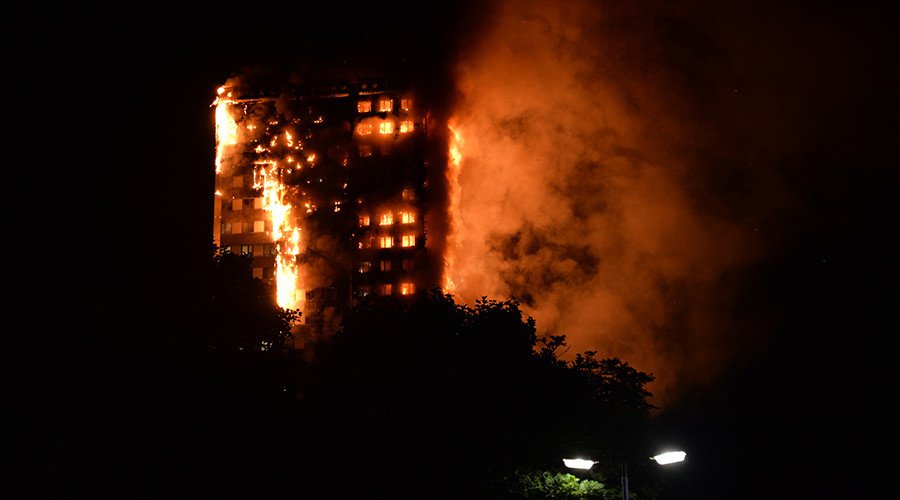 "It's so heartbreaking, I've seen someone flashing their torches at the top level and they obviously can't get out," Clarke added. "The guys are doing an incredible job to try and get people out that building, but it's truly awful."
Raging fire in Grenfell Tower near Latimer Road. Whole block of 24 floors up in flames. People still trapped inside. Horrendous. pic.twitter.com/J7UO321yIP

— Tim Downie (@TimDownie1) June 14, 2017
A number of people who uploaded videos of the blaze to Twitter said they could hear people screaming from what seemed to be inside the tower block.
In a harrowing video shared by Twitter user Reyan, screams are heard and a person is seen fanning smoke out of a top-story apartment window.
In a post from November last year, Grenfell Action Group wrote that they "have reached the conclusion that only an incident that results in serious loss of life… will allow the external scrutiny to occur," blaming the KCTMO (Kensington & Chelsea Tenant Management Organization), which owns the building, of "ineptitude and incompetence."
"It is a truly terrifying thought but the Grenfell Action Group firmly believe that only a catastrophic event will expose the ineptitude and incompetence of our landlord."
Branding the company as an "evil, unprincipled, mini-mafia," the residents group pointed out that the company "narrowly averted a major fire disaster" in the same tower back in 2013, when faulty wiring led to a period of power surges in the building. The group accused KCTMO of covering up the incident, aided by Royal Borough of Kensington & Chelsea (RBKC) Scrutiny Committee.
Meanwhile, it was reported that the apartment block was a subject to comprehensive £10 million renovation that was completed in May last year.
You can share this story on social media: