'Who should I vote for?' Google reveals top searches ahead of #GE2017 (VIDEOS, GRAPHS)
Published time: 7 Jun, 2017 19:39
Edited time: 8 Jun, 2017 13:43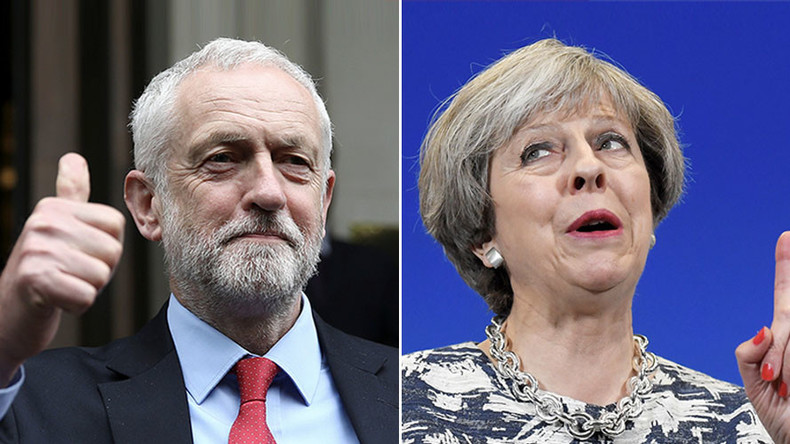 Hours before UK voters head to the polls, Google Trends is providing an interesting insight into not only the partisan divide online, but also the political indecision.
Astonishingly, the most searched question in the UK, according to the search term aggregator, is: 'Who should I vote for?'
READ MORE: Party leaders make final election dash armed with pleas, policies & promises (VIDEO)
Meanwhile, Labour is currently the most searched for party at 50 percent, with the Conservatives taking second position at 21 per cent.

Jeremy Corbyn's party manifesto is the most keenly sought after political document on the UK web, according to Google.
Searches for the party's 128-page blueprint for a "better, fairer Britain" are outpacing web interest in the Conservative's "Forward Together" plans for a "stronger Britain".
With Brexit looming large in this general election, the economy and taxation are key pillars around which Britain's two major parties are building their agendas.
READ MORE: Corbyn's Labour faces 'nuclear winter' with support outside London flatlining – report
In a bid to generate greater business interest, the Tories say they will reduce corporation tax. In contrast, Labour will seek to raise capital by increasing corporation tax but wants to ensure that those on lower earnings do not experience an increase in payments to the government.
It's no wonder that 'tax' is the biggest political issue searched on Google in the seven days before polling, followed by 'housing', the 'NHS' and 'Brexit'.
Interestingly, queries on how to become a member of the Conservative Party outweigh those regarding any other party.
Meanwhile, online appeal in the search term 'hung parliament' peaked on May 31 – the same day as a BBC leaders' debate and the release of a YouGov poll which predicted that outcome.
In terms of international interest, the most searches about the election outside the UK come from Ireland followed by Malta and Cyprus, which have large British expat communities.