US embassy in London praises Mayor Sadiq Khan... despite Trump Twitter attack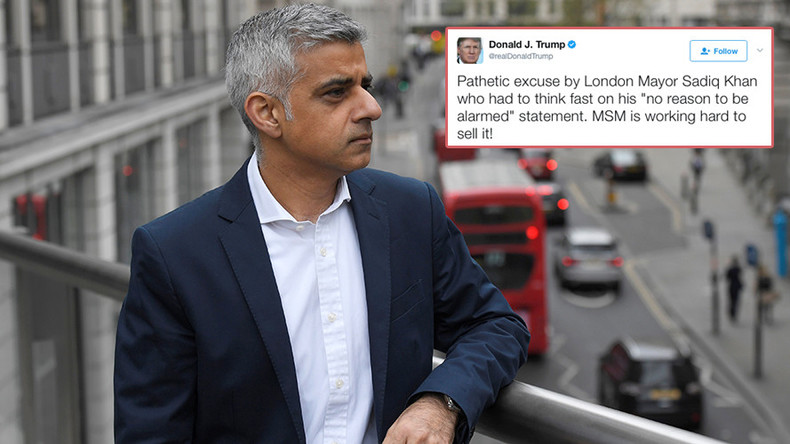 The US embassy in the United Kingdom has contradicted the message coming from President Donald Trump's Twitter account this weekend, praising London Mayor Sadiq Khan for his response to Saturday's terrorist attacks.
Trump's first tweets about the tragedy quickly turned into an argument in favor of his Muslim travel ban.
"We need to be smart, vigilant and tough. We need the courts to give us back our rights. We need the Travel Ban as an extra level of safety," Trump wrote.
"We must stop being politically correct and get down to the business of security for our people. If we don't get smart it will only get worse."
He then berated the London mayor in a tweet, saying: "At least 7 dead and 48 wounded in terror attack and Mayor of London says there is 'no reason to be alarmed!'"
Khan's words were taken out of context, however, as the mayor was talking about an increased police presence on the streets of the capital over the coming days.
US Acting Ambassador Lewis Lukens seemed to take issue with his commander-in-chief's opinions, posting a series of messages on social media praising the response of the emergency services and the "strong leadership" of Mayor Khan.
"It is with a heavy heart I offer my condolences and support to the people of the United Kingdom. America grieves with you," Lukens tweeted.
"The response from emergency services, law enforcement & officials in [London] – as well as ordinary Londoners – has been extraordinary," he added.
"I commend the strong leadership of the @MayorofLondon as he leads the city forward after this heinous attack."
In his address to the city, Khan, himself a Muslim, said: "There aren't words to describe the grief and anger that our city is feeling today.
"I'm appalled and furious that these twisted and cowardly terrorists deliberately targeted innocent Londoners and visitors to our city, who were just enjoying their Saturday night. I condemn these terrorists in the strongest possible terms. They are barbaric cowards and there is absolutely no justification for their evil and unforgivable actions."
A spokesman for the mayor told the press that Khan "has more important things to do than respond to Donald Trump's ill-informed tweet that deliberately takes out of context his remarks urging Londoners not to be alarmed when they saw more police – including armed officers – on the streets."
On Monday afternoon, the US President returned to Twitter, suggesting the mainstream media was "working hard to sell" Khan's appeal for calm.
"Pathetic excuse by London Mayor Sadiq Khan who had to think fast on his 'no reason to be alarmed' statement. MSM is working hard to sell it," he wrote.
But the Twitter feud left many in shock, as even Downing Street defended the London Mayor.
BBC political editor Laura Kuenssberg tweeted sarcastically: "US President guaranteeing himself a warm welcome in London if state visit goes ahead later in the year."
Legal bloggers, The Secret Barrister, echoed the sentiment saying: "Serious question to @theresa_may: What will it take for Trump's state visit to be rescinded?"
Labour MP David Lammy also challenged Theresa May to cancel Trump's official state visit following the comments.
Trump is expected to travel to Britain at the beginning of October.
"You are truly beneath contempt. You are just a troll. Show some bottle please PM. Cancel the state visit and tell Trump where to get off," the north London MP wrote.
After initially sidestepping questions on Trump's Tweets, Theresa May defended the London Mayor.
"I think Sadiq is doing an excellent job," the PM told reporters during an election campaign event at the Royal United Services Institute (RUSI) on Monday morning.
"We're working with the Mayor of London and City Hall to ensure, for example, that the transport network is able to get back up and running so that people can go about their business.
"I've been very clear, I've been very happy to say when I think President Trump is wrong - to have taken America out of the climate change agreement, the Paris agreement.
"The United Kingdom stays in it and we believe it's an important international agreement - so I'm not afraid to say when I think President Trump is getting things wrong."